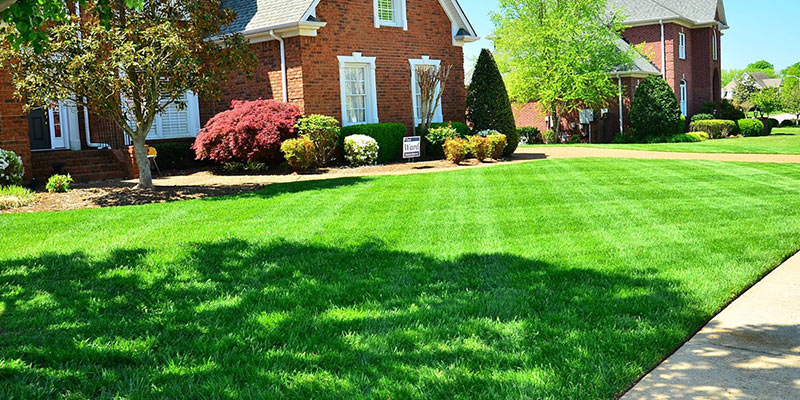 Your lawn is the foundation of your garden. Usually, it's the first thing anyone sees when they look out of your window. Proper maintenance and upkeep might sound like a challenge, especially if you don't enjoy gardening. However, abiding by a few lawn care tips could seriously transform the look of your entire garden. Here are three lawn hacks that you need to know about.
1. Mow your garden
Mow your garden to keep it looking its best, even during the cold winter months. A good lawn mower is your best bet here. These products help you trim the grass without making it any more of a chore. The best products ensure your back is safe when mowing, optimizes lawn care and gets the job done in the quickest possible time frame. Remember, there's no right or wrong way to cut your lawn. Just pay attention to slippery surfaces, especially in the rainy winter months, in order to avoid an accident or injury. Pay close attention to the sides and corners of your lawn, too, where the grass borders a path or a fence. These areas of your garden might require a little more care and attention. Regardless of the size of your garden, regular lawn care could pay off. Not only will it make your garden look trim and tidy, but any guests who come to your home will be impressed as well.
2. Water your lawn
Your lawn is just like any other plant that you might keep in your garden. That's because it grows and requires lots of nutrients to look its best. Although there are loads of lawn maintenance products out there, including items that will help patches of grass to grow quicker, watering your lawn on a regular basis is usually the best way to go about things. Whether you have a hose or fill up an item like a watering can in order to water your garden, just remember to do it as often as you can, especially in the hot and dry summer months. Try and set yourself some kind of reminder (such as an alarm on your phone) to ensure that you water your garden on a regular basis. This way, you can provide your grass with all the nutrition it needs to grow and prevent it from becoming damaged due to the sun.
3. Get rid of any weeds
Weeds can potentially be dangerous for your lawn to prosper, especially if they attract pests which eat the grass. Therefore, you'll need to get rid of any weeds before the problem gets worse. Regular pruning of your lawn can ensure that any unwanted guests like weeds are removed quickly. There are a number of different ways you can do this, including products that you can purchase which can stop weeds from being a nuisance, so do your research online. Alternatively, you can pull up weeds using your hands and dispose of them shortly after (you might want to wear a pair of gloves when you do this in order to protect your hands,)
Takeaway
These three tips help you care for your lawn so it looks great all year around. Remember, remove any weeds, keep your lawn well-watered and mow the grass on a regular basis.