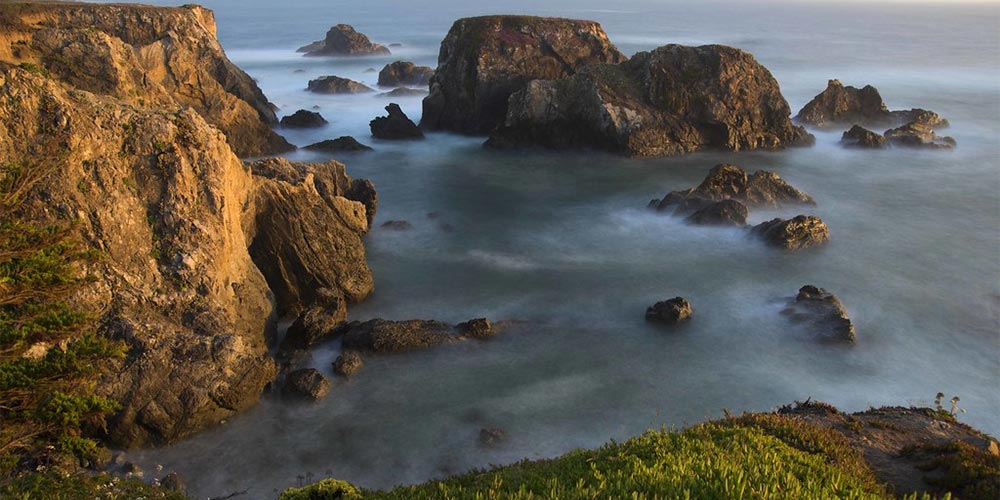 Let's get real. California gets pretty crazy sometimes. In between the hippie vibes of San Francisco and the jaw-dropping splendor of Yosemite, well, you just need a breather.
And for that, Mendocino County is perfect.
Sitting to the northeast of the state, Mendocino County offers dramatic coastlines, plummeting waterfalls, and redwood groves. There are also vineyards (score), ancient inns, and, if you're lucky, the odd gray whale or two.
So, for when all you need is some peace, quiet, and natural beauty, this is the ultimate guide to Mendocino County.
When to Visit
The best time to visit Mendocino County depends on what you plan to do. Summer, when the weather is at its finest, is the most comfortable time of year to be outside. However, with the sun's arrival comes flocks of tourists.
To avoid the crowds, come over the winter period when migratory whales pass along the northern Californian coastline. If you aim for March, you may even catch the Annual Mendocino Whale Festivals. A highlight of the Mendo calendar, the festivals offer the chance to see the ocean giants and take part in activities such as craft beer tastings and fun runs.
What to Do in Mendocino County
There's plenty to do in Mendocino County, especially if you're the outdoorsy type. If you've got an adventurous spirit, endless days of fun can be spent freely exploring the redwoods or scouring the coastline.
However, if you prefer to have a couple of activities planned, here are four excellent options.
1. Visit the B. Bryan Preserve
Go on an animal safari at the B. Bryan Preserve, a private foundation aimed at conserving Africa's endangered animals. No, you won't find big cats. But you will spot herds of giraffe, zebra, and antelope roaming the 110-acre property.
This isn't a zoo, so you can't just drop in unannounced. Tours need to be booked beforehand. They last around an hour, starting with an introduction to the animals before an open-air Land Rover ride across the grounds. After you've seen the animals in their 'near-natural habitats,' the tour ends with a chance to feed one of the giraffes.
2. Ride the Railways
Explore the gorgeous Redwood Railway Route, on the famous (and terribly named) Skunk Train. Much more appealing than it sounds, the Skunk Train is actually a gorgeous heritage locomotive that travels through some of the region's most beautiful landscapes. The train departs from either Fort Bragg or Willits.
For a more active experience, you may prefer to ride the Redwood Route on railbikes. Starting at Fort Bragg, hop on a specially designed bike and pedal along the tracks. The journey will take you through redwood groves and on to the wildlife haven of Pudding Creek Estuary. The trip takes about one-and-a-half hours and is suitable for most fitness levels. Thankfully, if you do fancy a break, the bikes have a motorized assistance mode.
3. Explore Russian Gulch State Park
Stretch your legs with a trail hike in gorgeous Russian Gulch State Park. Here, the full force of California's beauty smacks you in the face (don't worry, it's not painful). You'll find one-and-a-half miles of rugged coastline, a verdant three-mile canyon, and a 36-foot plunging waterfall.
If you want to see the waterfall – and most people do – take the Fern Canyon Trail. The hike isn't too tricky, but you'll need a half-day or so to complete it. After, if you have the time, take the Headlands Trail to see the park's ominously named sinkhole, the Devil's Punchbowl.
4. Tour Mendocino Coast Botanical Gardens
For an instant hit of natural goodness, head to Mendocino Coast Botanical Gardens. There you'll find a stunning 47 acres of beautifully maintained gardens to explore. If you're a newbie to the plant world, look out for one of the garden's free guided walks. They take place on the first and last Monday of each month from March to October.
To make the most of your visit, make sure to bring along your binoculars. The gardens are also home to a variety of wild birds throughout the year, including ospreys, hawks, and the pileated woodpecker.
Where to Eat and Drink
After long days exploring Mendocino County, you'll undoubtedly want to refresh with a hearty meal and, perhaps, a drink or two. For that, Mendo has plenty of options.
1. Café Beaujolais
Housed within a Victorian farmhouse founded in 1893, Café Beaujolais serves Californian-French fare in a wonderfully rustic setting. It's been named one of California's best restaurants – high praise indeed – but it's also very reasonably priced. One of their wood-fired pizzas will set you back around $15.
2. Harbor House
Just 30 minutes south of Mendocino sits Harbor House, a Michelin-starred restaurant nestled within a charmingly rustic inn. As you might expect from a restaurant of this caliber, Harbor House is delightfully innovative. Expect gourmet dishes focusing on seafood and veggies cooked with fire, steam, and smoke. One for a special occasion.
3. North Coast Brewery Co.
One of the pioneers of craft drinks in Mendo, North Coast Brewery Co. in Fort Bragg is now of the largest breweries in the United States. Somehow, though, it's managed to keep its distinctly charming British pub feel. Head to their taprooms to sample their delightful brew collection.
How to get to Mendocino County
Getting to Mendocino County isn't too difficult, but hiring a car is essential. The nearest airport is Charles M. Schulz-Sonoma County Airport (yes, it's named after the creator of Charlie Brown and Snoopy). A car ride from there to the village of Mendocino takes around two hours. Rentals are available at the airport.
If you're coming from overseas, you'll need to fly into one of California's bigger airports. San Francisco, Oakland and Sacramento are about two to three hours' drive away. If you have luggage or valuables to store before your trip, make sure to keep them secure with a luggage storage service like Bounce. We also recommend this company for carry-on luggage.
Follow this ultimate guide to Mendocino County and you'll return to your normal life wholly refreshed. Remember, a visit to Mendo is all about taking things slllloooowwww…
Nothing you do needs to be rushed. Just stroll the coastline, eat lovely food, and sip excellent craft ales. It's utter bliss.
https://visitmendocino.com/mendocino-county-bucket-list/
https://www.parks.ca.gov/?page_id=432
https://www.gardenbythesea.org/visit/about/
https://www.lonelyplanet.com/usa/california/mendocino/top-things-to-do/a/poi/1006122
https://www.mendocinovisitors.com
Images Source: https://www.flickr.com/photos/54144402@N03/27927197832