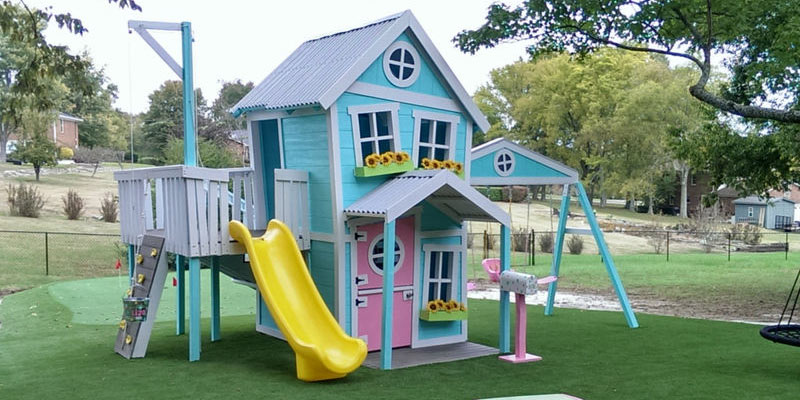 In our latest article from one of our expert guest authors, find out what makes a good children's playhouse and what things you should consider before buying one.
When it comes to kids, they love to spend their time playing. With more kids today inclined towards mobile devices to play games, it becomes extremely necessary to come up with something else that will keep them occupied while having fun. One such amazing play thing is the playhouse.
There are certain things you have to look out for when buying a playhouse and here I have listed them together for your convenience.
Budget
Buying a playhouse means you have to spend money. So for the same reason always keep the budget in mind. Again, understand that there are different playhouses available in the market that come with different features. So ask yourself is there a need to invest in a playhouse say with 'X' features? So it is up to you to decide the kind of the playhouse you want to buy. Moreover, to be in the budget, make sure to use the Garden Buildings Direct discount codes and vouchers while shopping.
Use your creative skills
Many people think that buying big and expensive playhouse is good for kids. But it is not always the thing! Kids can even have enough fun in a small playhouse. You can go for the simplest one available in the market and make it more beautiful using some creativity skills. You will be surprised to see how your kids enjoy the new small space their way.
Choose a location
Once you have cleared up the things regarding the budget, then the next thing you have to finalize is the material and size of the playhouse. Again, you have to decide whether you need to buy one for indoor or outdoor. Moreover, you have to see that enough space is present surrounding the playhouse for the kids to play and for you to keep it clean. If you are planning to install a bigger one in your backyard, you have to make sure that you have enough space left there for other activities.
Type of playhouse
Are you planning to buy a wooden or plastic playhouses or go for play tents?
Many people opt for plastic playhouses as they are cheaper and easy to maintain. They are smaller in size and can be kept indoors. Keeping them outside is not all an issue as you won't have to build a foundation for them. This kind of playhouses is mostly preferred by parents with small kids.
Wooden playhouses are just right for your backyard. You choose the size depending on the space and age of your kids. The best thing about them is that they are strong and long-lasting. You can even customize them your way or spice it up using your creativity. The best thing about such playhouses is that once your kids grow up you can still use them by converting them into sheds.
Play tents are a hit among the parents as they can be set up as well as removed instantly from any place. They are quite cheap and you can find them in the market on two kinds of materials namely fabric and polyester. The fabric one can be only placed indoors while you can use the polyester one both indoor and outdoor.
Assembling the thing
If you go for the tents, it is very easy to set it up. The complexity increases from plastic to wooden ones. If you have the knowledge of carpentry you can setup it along with your kids or you can even check out for the local handyman services. Some of the online playhouse stores even offer an assembly service while buying from them.
Safety
Always check out the age criteria before you buy the playhouse for your kids. The stores always offer you product suggestions based on the age criteria. Make sure you follow them to ensure they are safe for your kids to play.
Your kids are going to spend a good number of their childhood days in the playhouse. So be sure to invest in the right one that can go a long way.