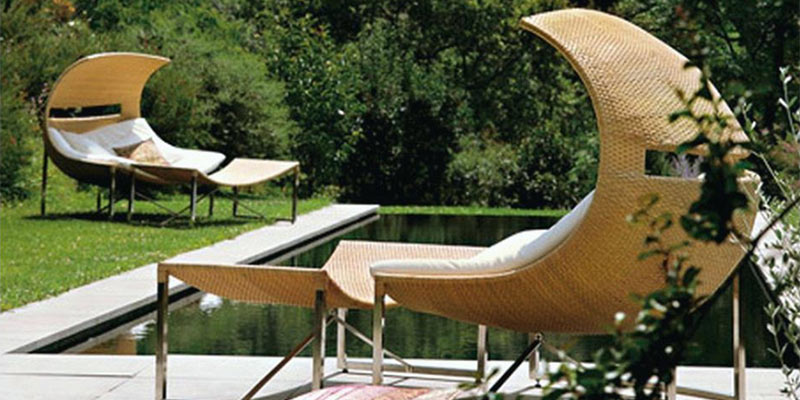 With time, your new wooden outdoor furniture will most likely begin to look tired and weathered if you don't maintain it properly. However, with proper maintenance, the furniture will last for an extended period, giving you more value for your money. Here, you'll learn about basic things you can do to make your luxury outdoor wood benches for garden stand the test of time and keep them keep it in tip-top shape and looking as good as new.
Without further ado, let's go straight to the tips.
1. Treat
As seasons come and go, your benches become vulnerable to various harsh environmental elements. In as such, there's a need to protect the outdoor furniture, especially those made with softwood, from the adverse conditions.  Although the furniture will most likely be treated by the time you are buying it, extra treatment comes in handy for further protection.
Apply an extra coat of a wood preserver on the furniture and by so doing, you'll have extended its longevity. In case you have used the furniture for a while, it is important that you thoroughly clean and dry it before applying the treatment
2. Keep it clean
Besides treatment, cleaning is another way of helping your benches retains their original appearance. Some furniture come with cleaning instructions. So, if present, consult your bench's cleaning manual for proper cleaning. Ensure that you follow all the given instructions to the letter to avoid interfering with the integrity of your investment.
However, don't worry in case you don't find the instructions; there's a plan B. simply clean the furniture using a gentle soapy water solution and a sponge when you find it dirty. A sponge is the most recommended scrubbing material since it is gentle on wooden furniture and so, the colour and/or treatment coating remains intact even with regular cleaning. However, if the surface of your bench is not very fragile, you can use a scrub brush but ensure that you scrub it along the grain.
To remove the dirt embedded in the crevices, get a backyard hose, remove the spray nozzle or tune it to a gentler setting and then use the hose to spray the gentle soapy water to the hidden areas. A 1,200 to 1,350-pound pressure washer can also do but ensure to use a low setting. Rinse the furniture thoroughly using clean water once you are done with the soapy cleaning. Don't forget to dust the furniture before cleaning.
3. Store safely during winter
Wood furniture apart from those made of teak and cedar can be adversely affected by excessive water exposure. In as such, leaving outside during winter season is a bad idea; it will make them lose their glory pretty fast and their lifespan will reduce as well. To avoid such, store your outdoor furniture, including garden benches in a climate-controlled place (indoors) during winter or any other it's raining for a long period.
4. Seal it
If your furniture does get stained by bird droppings or untended spills, it may be a problem. While well-sealed wood generally won't stain as it's protected, and any messes can be cleaned off, unsealed wood definitely does stain and it can be unsightly. If your wooden furniture is unsealed, you can sand the wood's surface in the direction of the wood's grain to remove most of the marking. However, once you've done that and made sure your furniture is clean and dry, you really do want to get a sealer on that wood to prevent further issues.
Products like teak oil or natural oil blend can be useful for conditioning your furniture before the onset of the summer season. The products weatherproof the natural wood finishes, protecting your benches from potential damages resulting from sun and rain exposure. Therefore, having applied them on your furniture, you'll most likely experience dry or wet rot or even graying on them. Besides the conditioning products, you can also apply UV blocking sealants for extra protection against potential sun damage.
5. Scrub, fill and treat when necessary
Has your bench weathered and you'd like to restore its original colour? Don't worry about that too. Here's how you can go about it.
Start the restoration process by scrubbing away disintegrated and wood and splintered paint using a stiff wire brush.  Then sand the furniture gently using sandpaper or steel wool to get rid of the silvery-gray patina if present. Once the surface is smooth, repair key cracks and holes by applying wood fillers in the gaps using a putty knife. Wait for the repairs to dry.
Once the repairs have dried, apply a fresh coat of oil on the furniture until you notice that the wood cannot absorb more of it. Then, wipe down the furniture to get rid of the surplus oil and allow it to dry completely.
Finish up the exercise by covering the scrubbed surface with a wax or sealant coat. This helps in the conditioning and protection of the new finish against harmful weather elements. Don't forget that the application of the finish should be done along the wood grain.
6. You can stain
If you are uncomfortable with the current colour of your wooden outdoor bench, you can simply colour the furniture with your preferred stain. However, you should ensure that the stain you choose is suitable for outdoor furniture.
Before you start to use the stain, stir it thoroughly to ensure homogenous pigment distribution. If you want to use several stain cans, mix them together before use to prevent colour variation on your furniture when you apply them. Apply the stain using gentle and even strokes towards the same direction. Follow the rest of the application instructions on the cans religiously. When the stain dries, apply natural oil blend on top of it and then seal it with wax or any other appropriate sealant.
7. Tighten loose bolts
Bolts hold your outdoor bench together. The furniture becomes weak when the bolts are loose. Therefore, it is important that you tighten a loose bolt as soon as you notice it. With tight bolts, your bench remains secure and strong.
You see? It is not difficult to keep your garden benches in good condition and help them stay longer. Try the above tips and see your furniture last for years and remain as good as new.