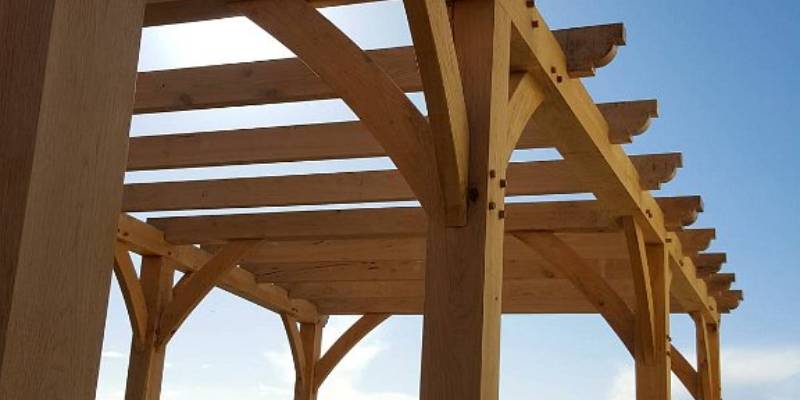 Although many homeowners focus on the interior of their house when renovating or having recently acquired a home, the exterior features of your property can be just as important for the aesthetic of your house. Pergolas and gazebos can provide you with a space to relax, have fun, and can look beautiful as the central feature of your garden. If you are considering whether they are a worthy investment, this article will explain some of the reasons why you should choose an oak framed pergola or gazebo.
1. Outdoor Living Space
If you believe that the interior of your house does not offer your family the optimum amount of space needed, you should consider gazebos for their creation of outdoor living space. Building a gazebo provides you with an extra room or area within your property that you can use for a variety of purposes, from a games room to a summer study. Its location within your garden makes the gazebo a perfect place to get some privacy away from the distractions of the home, or even spend some quality time with the people you care about. If you are looking for a durable and elegant oak finish to your gazebo, specialist wood companies such as Oak Frames Direct provide a large selection of gazebos and pergolas for your garden.
2. Entertaining Venues
If you love to entertain guests, or simply have a large family in constant demand for activities, gazebos can make great entertainment venues. Not only will this mean that you can entertain without damage to the house, but this gives you a sophisticated and fun venue for outdoor garden parties in the summer months, even if it rains. Additionally, gazebos are easily decorated for special occasions with banners, balloons, and even snack tables and outdoor activities, meaning that you can instantly transform your gazebo to suit your event.
3. Garden Design
However, gazebos and pergolas can also work with your garden design to create aesthetic pleasure with their chic and decadent style. They can help to add a central focal point to your garden landscaping with their attention-drawing design and help to add interest to an otherwise un-landscaped garden, ensuring that they are both beautiful and practical.
4. Shelter
Gazebos can also help you to create shelter in your garden, meaning that you can enjoy the outdoors and fresh air regardless of the weather conditions at the time. You can simply duck under your gazebo in the middle of barbecues and reading sessions alike to ensure that you can stay dry at all times. Additionally, you can also make your pergola provide shelter for you and your family by adding benches underneath its canopies, which can help to protect from direct sunlight, if not rain.
5. Your Home Value
Not only this, but outdoor living spaces and garden features such as gazebos and pergolas can add value to your home, with great garden architecture increasing the value of your home by up to 20%. Many buyers now look for attention-grabbing features outdoors as an extension of the house and as an aesthetic touch, making gazebos and pergolas attractive features.