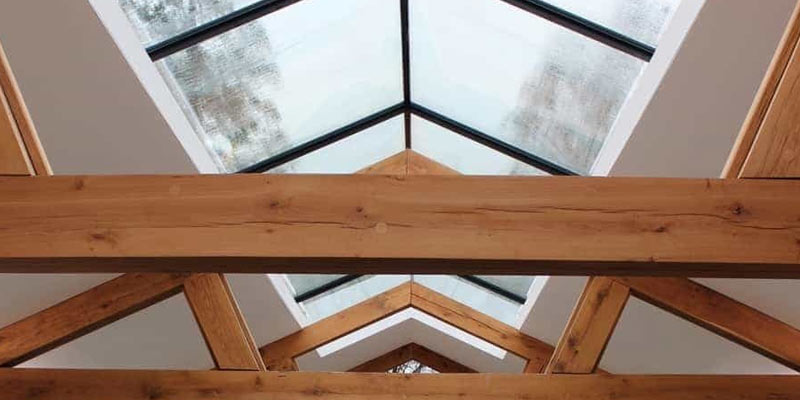 With several months still to go until summer, there is plenty of time to make great use of that garden space you have or to extend your house.  Rather than go for the usual garden house or conservatory, you could opt for something a bit different in the form of an oak framed orangery.
Before we look at 5 of the biggest benefits of building an oak framed orangery as an extension to your home, let's find out a little more about exactly what an orangery is.
What Is An Orangery?
Traditionally, as the name suggests, these buildings were used primarily to grow oranges and other citrus fruits. However, in time they have become versatile living spaces that add sophistication and luxury to your home.
In the past, they were primarily formed with brickwork and glazing, but nowadays you can have oak framed orangeries, which obviously avails you of the natural benefits of oak construction. Not only does oak have a more natural look than even brick, but will stand up against the harshest weather conditions.
If you are still on the fence about the subject, we will now look at 5 great benefits of building an orangery.
Brings Lots Of Natural Light In
As the frames of orangeries are slimmer than other extensions, you have the advantage of being able to incorporate lots of glass in the construction. Especially if you look for a glass-to-floor variety of orangery.  With all this glass, there will be lots of natural light flooding into your space, giving it a warm and inviting feeling without it feeling too stuffy.
Increases Your Property's Value
One of the main reasons why people invest in conservatories and extensions is if they are planning to sell their house somewhere down the line and want to ensure they can get as much money for it as possible.  An orangery extension installation, according to property market experts, could add at least 7% to the re-sell value of your property.
It's not just the actual monetary value that will increase though, as having an orangery adds an extra point of interest for potential buyers.  Whether or not you decide to have an orangery installed on your property could actually have a huge bearing on whether it actually sells or not.
They Are Incredibly Versatile
As we have already touched upon, the name orangery comes from its original intended purpose; but that doesn't mean you have to necessarily use it as a greenhouse for growing citrus fruit like oranges.  Many homeowners use orangeries in a similar fashion to conservatories, such as:
Yoga rooms and gyms
Playrooms for children or adults
Home office
Additional dining space
Lounge or family area
Once you choose what you are going to use your orangery for, you can kit it out with the appropriate furnishings and accessories.
They Are Adaptable
There are many ways you can further adapt an orangery to meet your needs and requirements.  While it is true they bridge the gap between home and garden, access to your garden and home can be improved and made smoother with the addition of patio doors, French doors or even bi-folding doors.
They Don't Generally Require Planning Permission
Interestingly, from a renovation point of view, orangeries are one of the easiest projects to get off the ground.  If you have ever tried to build anything new or make major renovations to your property in the past, you may know of the trouble there can be to get planning permission.
As orangeries are considered generally as being 'permitted developments' they normally don't require planning permission of any sort.  You can literally just install one without warning or reporting to anyone.
We say normally because if you want your orangery to count as a permitted development, it has to fall into the following guidelines:
It must not cover or exceed more than 50% of your property's size
It must not be higher than 4 metres
It must not have ant balconies, elevated platforms or verandas
It must not be more than 50% of your property's width
If eaves are within 2 metres of a designated structural boundary, they must not be over 3 metres high
As you can see, there are many great reasons to invest in an orangery for this summer, an oak framed orangery in particular.  Why is oak a good choice of material for an orangery?
Not only does it look natural and help to form that connection between your home and garden with its natural tones and texture; it also will last a long time.  Oak is very robust, hard-wearing and can withstand a lot of wear, tear and weather damage without becoming structurally unsound.
That is why we recommend if you are looking for an interesting and attractive solution to the unused space to the side or back of your property, that you give serious consideration to installing an oak framed orangery in time for summer.