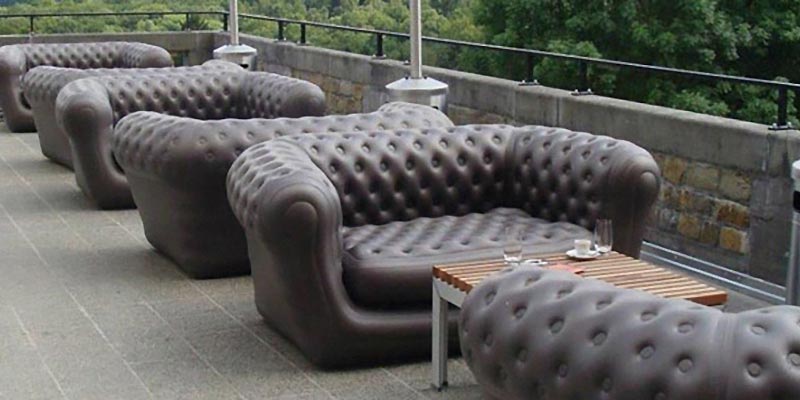 Inflatable furniture seems to be just one of those things that kids grow up with.
Which of us didn't have an inflatable easy chair and an air mattress that served a dual purpose as a pool floatie and drawbridge for our sofa fort?
Mom and Dad were smart, though – they make the kids blow up all the pieces. It made us more likely to take care of it. We weren't as likely to try to pop it, and we sure wouldn't let our friends do it!
The good news is that our "blast from the past" inflatable furniture is coming back, and with a bang.
There choices are more versatile than ever before and the quality issues that made it a thing of the past in the first place are resolved. Today, a good lounge air mattress or an inflatable chair is a solid choice if you want to spice up your home or backyard.
Resolved durability issues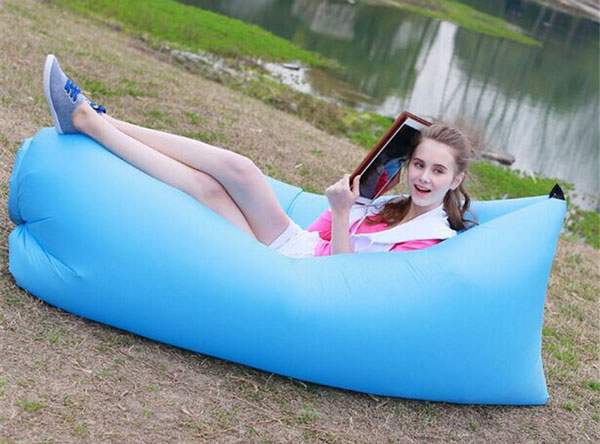 The durability of inflatable furniture was, at best, questionable when I was a kid. If baby sister didn't bite a hole in it with her only tooth, then my teenage cousin would make the seams split when he plopped down on it.
But today, it's much better. While still not completely puncture-proof, the heavy-duty PVC – is significantly tougher than some of the dime store items we received as children. The best inflatable mattresses and chair on the market today are designed for serious use. An inflatable sofa can hold up to 500 pounds, and an inflatable chair will hold 250 pounds and the most durable of the heavy duty air mattresses go up in weight capacity to a whooping 750 lbs.
Furthermore, the seams are much stronger than those in our toys of yesteryear. Double reinforced seams mean that you will have to purposely puncture the piece to tear it up. The seams will often hold even when the rest of the chair or ottoman is worn out.
If you remember the 90s, you remember the valves issues…You would hold onto the plastic plug, because it was the only real grip you could get as you huffed and puffed to air up the furniture. Usually, after doing that a couple of times, the plug would break off and get lost. End of furniture. But today's inflatables are much tougher and easier to air up.
Ease of Use
Speaking of airing up inflatables. Most of them have rapid inflation valves that don't let the air back out unless you are ready to deflate them. There are also battery operated and electric pumps that can air up – and DEFLATE – the furniture within seconds! No more stomping around on the air mattress to push all the air out of it, and risk tearing a hole in it. Today's inflatable furniture can have the air vacuumed out within seconds!
Comfort
What about comfort? Will you need a forklift to get you out of an inflatable couch?
Actually, no. Air-up furniture today is made with more baffles that support the center portions. This reduces "wallowing" and actually makes for responsive, comfortable support. In fact, some inflatable mattresses rank right up there with "big name" brands of permanent mattresses for comfort and support. And, if you don't like the plastic surface, a soft throw takes care of the tactile dimension.
Usefulness
The increased durability and easier inflation/deflation of modern inflatable furniture make it much more useful. It's no longer just a gimmicky toy to keep the kids busy. It's a legit way of keeping the whole family comfortable on the patio, beach, or out camping.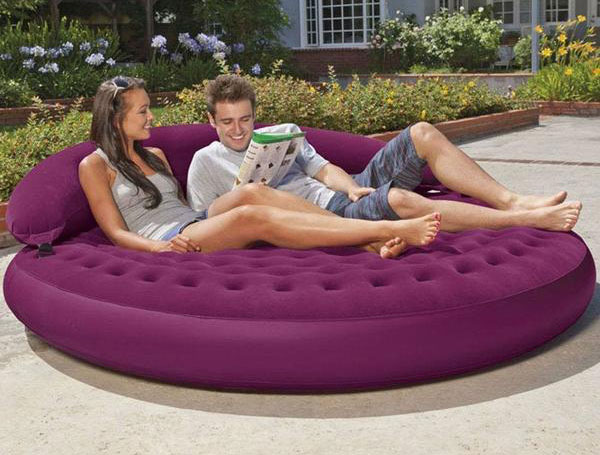 Patio Furniture
Think about it – you have friends coming over for a cookout, but don't have enough seating. Order ahead of time or go to your local pool and patio store, and pick up 3 or 4 inflatable ottomans. They are so lightweight, they are easily brought into the house if the weather turns. When your guests leave, use the pump to pull the air out and store them under the bed until your next fete! There are even companies that will let you test some out by renting the furniture first.
Game Night
Are the kids having a game night? A few easy chairs will cost only a few dollars, and you have quick seating for the newest game release. We always preferred to have the kids at our house, because we could keep an eye on the activities. Cool, comfortable furniture was one way to create a welcoming atmosphere for kids of all ages. And, the furniture is durable and affordable.
RVing
Roll up some pieces of inflatable furniture and store them under the sofa in the motor home. When you reach the RV park, you can have camp set up within 10 minutes. And, you can take it down in less time.
Camping
Go camping with your inflatable furniture. It is sturdy enough to withstand almost anything, and heavy enough that it won't simply waft away in a slight breeze – although you may want to avoid actual wind storms. But then, you would secure camp, anyway, in a wind storm.
Spare Room
Use inflatable furniture in your spare room. There is a black easy chair that is great for a reading nook. Combined with an ottoman, it's plenty comfortable, and easily moved to different rooms. An inflatable mattress is ideal for guests. It's comfortable, supportive, and durable. Once the guests go home, you can deflate the mattress and store it. Turn the room back into a game room or your TV room.
Inflatable furniture adds a fun vibe to your rooms and is available in bright colors as well as more neutral tones. It's easy to deflate and pack away, and simple enough to take camping. The next time you need furniture for a special occasion or trip, give it a try.