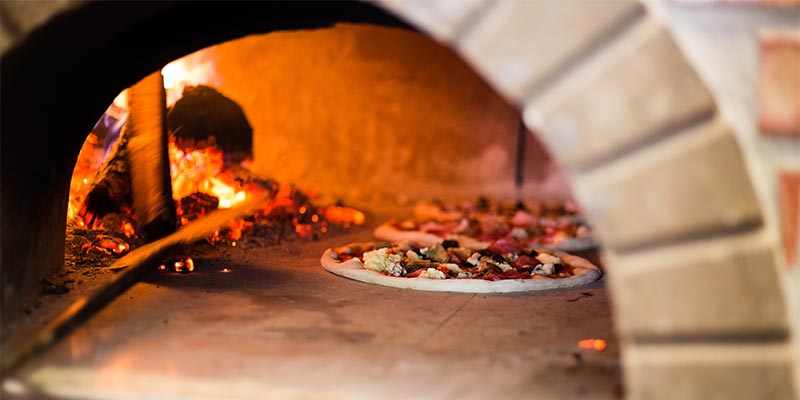 It goes without saying that wood is an extremely important resource which has been used for thousands of years to the benefit of society. From construction material to furniture to paper, it's application is seemingly endless (here are some products you probably didn't realise come from trees), but it's woodfuel that has caught the eye in recent weeks.
The use of wood for fuel isn't exactly new, but the industry is growing with the help of increased sales of wood stoves as well as increased benefits of burning wood for heat. The heat output from burning good quality kiln dried logs is better than many alternatives, it's cost efficient, pleasing on the eye and sounds good too.
However, burning wood for heat in an open fire or wood burner is just one of it's uses as a fuel. Let's take a look at some of the others.
Pizza ovens
Perhaps the most common use for burning wood away from stoves and fire pits is pizza ovens. Most of the best pizza joints in the world cook their pizzas using a wood fired pizza oven as they offer speed, even cooking, flavour enhancement, energy saving and many more benefits.
Not only are pizza ovens common in restaurants, there's also a significant increase in the number of people installing pizza ovens in their garden.
Jacuzzis/hot tubs
Wood fired hot tubs are a relatively new concept in the UK (but not in Scandinavia where the idea is developed from) and they rely on burning quality wood in order to heat the water.
Along with the many benefits of using wood to fuel your stove, using wood to heat your hot tub may help you experience a better quality of heat than an electric hot tub. Rather than heating quickly, a wood fired hot tub heats slowly (it can take upto 4 hours!) and this heating time is also part of the experience. Users are encouraged to use the hot tub as it warms and listen to the wood crackle as it burns whilst enjoying the outdoors.
Should you get one? It depends on what you're looking for. If you're looking for an 'experience' and to be one with nature, consider wood fired. If you want quick heat and bubbles at the push of a button, you need electric.
Saunas
Saunas always feel like they're powered by wood – maybe it's the amount of heat they produce or the smell of heated wood when you open the door, but It's a little disappointing to learn most are electric and controlled by an on/off switch.
There are however an increasing number of saunas now powered by wood as, much like wood fired hot tubs, it gets us closer to nature and offers a better quality of heat.
The other significant advantage of a wood fired sauna is the ability to reposition it or even take it with you if you move house. With no electrical hook up needed, external saunas are mobile and can be moved relatively easily.
Cookers
Cooking on wood is something usually reserved to camping or glamping but wood fired cookers are available for the kitchen in the shape of the beautifully made Aga.
At around £5k, they're not exactly cheap but they are wonderful to look at (especially the flames powering the stoves) and would be a truly fantastic addition to the right kitchen. The question is, does the food taste any different? Well, they are extremely clean burning so you would expect a difference in taste, but it's likely going to minimal.
Do you use woodfuel to power anything not listed above? We'd love to hear from you so feel free to get in touch!