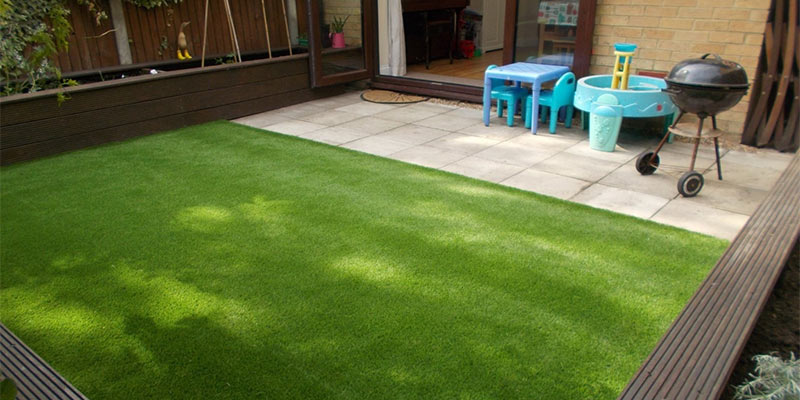 Installing artificial grass in your garden comes with a whole host of benefits; from taking the stress out of gardening, all the way to keeping your garden green 365 days a year. But did you know that you can cut costs by installing artificial grass yourself? No workmen required! Read on and find out just how easy a DIY artificial grass installation can be with this handy guide from Artificial Grass Direct. 
What You'll Need:
Enough artificial grass to cover your desired area
Enough sand to cover your desired area in a 35mm layer
A shovel or builder's plank to compact sand (or a vibrating plate compactor for larger gardens)
Enough weed membrane to cover your desired area
Fibreglass backing tape
Multipurpose adhesive
Craft Knife
Ground Pins
Step One: Measurements
First things first, work out the size of the area you want to cover with artificial grass in square meters. Remember to account for garden features like ponds and patios so you don't end up with too much artificial grass. Artificial grass is usually sold in widths of 2 or 4 meters and can be purchased at any length up to 25 meters. We recommend allowing some extra lawn length for a small amount of wastage depending on the design of your garden and how the rolls are laid.
Step Two: Preparation
For best results, we advise laying your artificial grass on a layer of compacted sharp sand as opposed to natural grass or vegetation as this can rot and cause your lawn to be uneven. We recommend removing a layer of topsoil and all traces of vegetation before levelling out your surface with sand. In smaller areas sand can be compacted with the back of a shovel or a builder's plank. For larger areas you may want to use a vibrating plate compactor which can be hired at most equipment hire centres.
Step Three: Weed Membrane
It's important to lay a layer of weed membrane over the sand immediately to stop any seeds finding their way in whilst you continue your installation. This will prevent any new vegetation growing underneath your artificial grass and ruining your garden. Overlap the weed membrane by at least 100mm and take it right to the edge of the area to ensure full coverage.
Step Four: Acclimatising
This next step is very straight forward. Simply lay your artificial grass on top of the membrane. You'll want to allow 50mm of artificial grass on all sides to trim for the perfect edge. Then leave the grass in place to settle for a day; this will help avoid creasing and wrinkling.
Step Five: Joining
Make sure you're satisfied the lay by butting any artificial grass edges together for the perfect fit. Next, peel the grass back and lay the fibreglass backing tape under the join. Apply the multipurpose adhesive to the tape using a spreader then simply fold the grass back into place, taking care not to squeeze the adhesive up on to the grass strands.
Step Six: Trimming & Fixing
Using a sharp craft knife, cut and trim your artificial grass, making sure there are no gaps between the walls and grass. Always use sharp blades and change your blades regularly as a blunt knife can cause accidents. Once you've trimmed your grass, secure the perimeter using ground pins nailed into the ground at an angle, spaced out at intervals of 200mm.