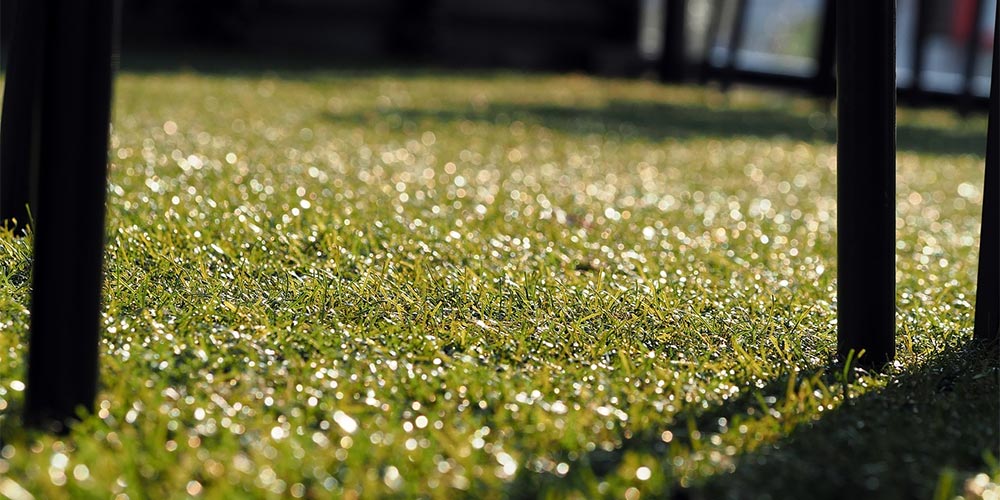 You can visualise how much time we spend on grass. On a hot summer day watching kids splash in a swimming pool, and lounging around a family barbecue in the fresh breeze are all great warm-weather pursuits. It isn't all sunshine on the grass, as trimming, fertilising, and cleaning up after the dog require a lot of energy. Artificial grass at home is a great idea for those who love outdoor activities but are fed up with the trouble inherent in sustaining it, perfect for families.
Minimal Upkeep
Artificial grass requires almost no maintenance, which is the biggest benefit for busy families. Keeping it weed-free and watered isn't necessary, and there's no need for regular grass cutting, edge shaping, hydration, or feeding.  Additionally, you won't need a lawnmower or strimmer, so you free up some storage space in the shed.  If you want to preserve artificial grass, you simply need to remove loose twigs, wash off any soil that accumulates, and tidy it up sporadically by combing the fibres firmly into place.  It doesn't take much work!
Spend More Time Playing Outside
That mud factor can also make us feel cooped up because it causes a mess and makes us want to stay indoors.  After children have been outside playing for a while, the thought of the clean-up required deters them from going outside again.  Having dead patches on saturated ground is inevitable, so artificial grass can be a solution to this. Artificial grass has drainage holes that allow water to drain, so you don't have to worry about damage, and you can use your lawn whenever you want.  In addition to not deteriorating when wet, it also provides a perfect playing surface in all weather conditions. If you have pets who spend a lot of time outside, a mud-proof lawn such as fake grass can offer extra protection from muddy tracks.
Say Goodbye To Irritants & Allergic Reactions
The suffering of grass pollen season will be all too familiar if you or anyone in your family suffers from hay fever.  This large expanse of lawn could be the major culprit behind hay fever, since it limits time spent outside enjoying the garden.  The use of artificial grass during spring and summer can make it easier for people experiencing allergies to enjoy time outdoors. Artificial grass is not allergenic, so it can help clear up hay fever symptoms.
Astroturf also has the advantage of not causing allergies to flare up from dust or other respiratory ailments due to mowing and trimming that can depress the quality of air. Furthermore, artificial grass does not need any supplemental chemical fertilisers or herbicides which could negatively impact a sensitive immune system. While artificial grass is good for humans, it's important to keep in mind that grass pollen affects all living things, including your pets!
A Safe Environment Is Essential
To be technical, during manufacture of artificial turf, synthetic fibres are combined with an infill to keep it firm, then a layer of synthetic fibres is placed over the infill to replicate a grass blade; however, the artificial turf is made from different materials depending on the manufacturer.
In the same way real grass is non-slip and gentle on the feet, artificial grass is as well. Added safety can also be achieved by adding a foam layer under swings, slides or playground equipment where you'd like to cushion a mishap.  No potentially dangerous weed or control products are necessary when it comes to the upkeep of artificial grass.
It's Possible To Still Retain Wildlife
In the same way that living grass provides a natural habitat for wildlife, artificial grass isn't going to provide a suitable environment, but that doesn't necessarily mean your garden will become a no-go area.  Other garden strategies can encourage wildlife to prosper; growing plants that support pollinating animals, constructing a wood enclosure, and creating a water feature are all great ways to keep wildlife from being displaced from your garden.
Lastly,
Many people are replacing their natural grass with artificial grass as a result of its numerous benefits. It is now difficult to distinguish fake grass from real grass due to recent advances in technology, as artificial grass has become more realistic in appearance. So what are you waiting for? Artificial grass is the future, and you and your family can live it.