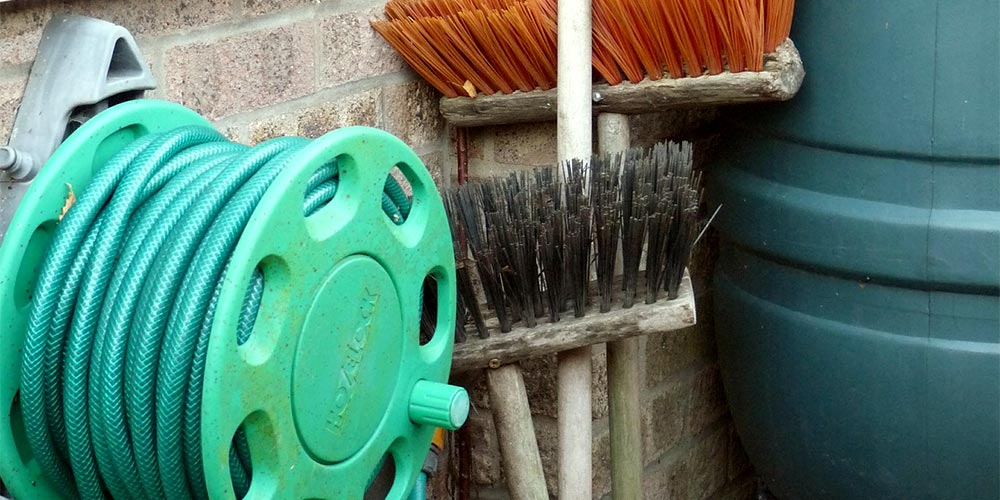 Air-conditioning units, utility boxes, and garden hoses are certainly not part of an outdoor oasis, but there they are. There's simply no way of getting rid of them unless of course, you're willing to endure scorching heat in the summer or no electricity at all. The thing is, even though you take all the right design moves, you'll still end up with a messy-looking landscape if you don't deal with these eyesores.
Fortunately, there are lots of clever and creative ways to hide these things away from people's sights. Here are some ideas worth trying.
Screen them
Cover up the eyesores with upcycled home fixtures, like old window shutters or louvers. You get to reuse old stuff hanging around your garage as clutter, plus you're able to create a cover you can easily move or take down whenever winter comes or you need to access the AC unit or utility box. Perhaps, the best thing about this DIY project is that you can do it with your kids. Let them paint the old window shutters. Have them pick climbing plants to drape over it. Make upcycling a family bonding activity.
If you don't have time for that though, then go for the classic fences. Depending on the theme of your outdoor space, you can choose wood, metal, or PVC. The top choice among the three, however, is the metal because of its easy maintenance. Consider adding metal gates and fences to your outdoor space to filter out eyesores.
Color them
There are two ways to go about this. The first one is to use a color similar to the immediate surrounding of the AC unit or utility box you're trying to hide. This will easily give camouflage, and therefore make the eyesores a little less obvious. This is the better option when what you're trying to conceal is located in an area that's not readily seen.
On the other hand, if it's within line of sight, you can use a pop of color and make it a focal point. So in the sea of green shrubs and plants, you can have a cute, yellow utility box that has the same accent color as your peonies or sunflowers. Take a cue from the colors already present in your landscaping so that you can tie everything together neatly.
Use landscaping features
Aside from fences, plants offer good cover. They're also naturally a part of the landscaping, so they won't be a nuisance when used as a screen. For one, you can go for shrubs. Thick and tall, they can conceal even huge AC units. You may also choose bamboo plants, which can form vertical slats appealing to the eyes. If you're trying to create a Zen garden, this is a perfect addition.
Another landscaping feature you can use is water. Water walls and fountains produce sounds that catch the attention of onlookers. Basically, it can draw people's eyes away from the ugly sight in your outdoor space. Just make sure to be strategic in where you'll place them.
Do you have outdoor eyesores you've been meaning to get rid of, at least visually? Roll up your sleeves and get ready to be busy taking them out this weekend.