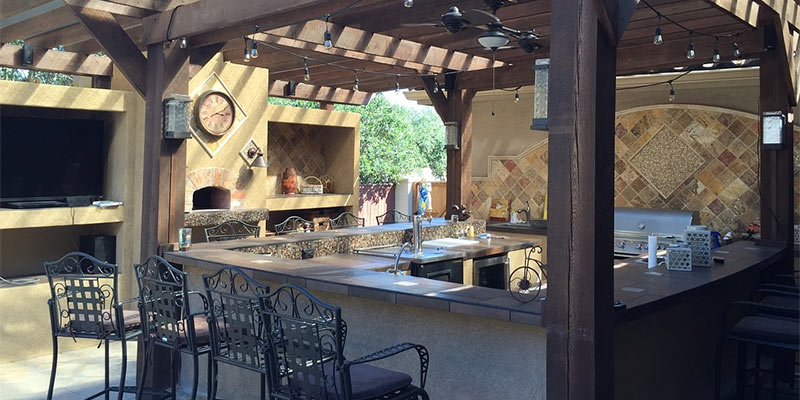 Cooking isn't just an indoor activity. In fact, cooking outdoors can often provide even better results than cooking inside your home. Barbecuing has enjoyed ever-increasing popularity since the 1950s, largely due to the incredible aromas and flavors created by grilling food outdoors.
Of course, the equipment used for outdoor cooking has changed and evolved over the years. Instead of traditional charcoal grills, many of today's homeowners are opting to build high-end outdoor kitchens that include all of the latest appliances and innovations. Here are some suggestions on how to design the perfect outdoor kitchen for your home.
Decide How Elaborate You Want Your Kitchen To Be
The first part of designing an outdoor kitchen involves figuring out exactly what you can afford without blowing your budget. For the most basic setup, your outdoor kitchen could be as simple as a grill and a separate freestanding bar. At the other end of the spectrum, your outdoor kitchen could include high-end devices and finishes that make it as versatile as any professional kitchen.
To begin the design process, determine whether you want a relatively basic setup or whether you want to go for a full-blown kitchen. That will make it easier to decide what appliances and amenities you need.
Evaluate Your Space
Choosing a location for your outdoor kitchen is also important. Even if you have a lot of land, your cooking area should still be conveniently located so that you don't have to carry all of your supplies too far to get to the grill. If you don't have a lot of outdoor space, on the other hand, you may have to get creative when it comes to deciding where you want to place your outdoor kitchen.
Permanence
The next thing that you need to determine is whether you want your outdoor kitchen to be permanently installed in place or whether you want to be able to move the components around with you.
If you are planning on staying in your current home for a long period of time, usually the best option is to design a built-in kitchen. By creating an outdoor space that is integrated into your home, you can add to the value of your property while at the same time creating the perfect area for entertaining.
Money Considerations
Your budget will no doubt come into play when deciding exactly how elaborate you want to make your outdoor kitchen. It is easy to get so caught up in the process that you lose sight of your budget. There are always hidden costs associated with any type of construction project. From having to pay for permits to hiring professionals to deal with plumbing and electrical issues, it is important to plan carefully so that you don't wind up spending more than you anticipated.
Outdoor Cooking Preferences
The appliances and features that you include in your outdoor kitchen will depend a lot on the type of outdoor cooking that you like to do. For instance, if you like the way food tastes after it is cooked on a charcoal grill, you may want to skip a gas grill in favor of a charcoal one. Including a brick oven in your design can make it possible to cook homemade pizza outdoors. You can even include a smoker or other appliances, depending on your preferences.
One of the biggest considerations is the type of fuel that you want to use for cooking. The primary choices include natural gas, electricity, propane, or charcoal.
The Area Where You Live
When designing your outdoor kitchen, you need to think about the most common weather patterns in your part of the country. If you live in a relatively mild area like Florida, you most likely will use your kitchen a lot more often than if you live somewhere like Minnesota that has freezing winters. Because of that, you may want to invest a little bit more money in your outdoor space.
If you live in an area that gets harsh weather, think about how to set up your kitchen so that it is as protected as possible from weather-related problems such as storms, wind, or excessive sun.
The Amount Of Upkeep And Maintenance
Unless you want to spend all of your time maintaining your outdoor kitchen, it is important to choose low-maintenance materials when designing it. Oftentimes, it is best to go with a simple design that won't require a lot of care. Otherwise, you may find that caring for your outdoor kitchen is more trouble than it is worth. You should also think about how to protect your investment. Ideally, the surfaces of the kitchen should be covered when they are not in use to help protect them from the elements.
Building Materials
When choosing materials for your outdoor kitchen, be sure to think about the outside of your home. Ideally, you should choose materials that are a good match for your home's existing architecture. Some of the best choices include concrete, stucco, brick, natural stone, or tile. Some of these countertops made by Worktops Direct could also be utilised.
Of course, your budget also comes into play when choosing materials. Don't forget to factor in the cost of labor when determining how much you can afford to spend.
How You Plan To Use The Kitchen
The final factor that you should consider is exactly how you plan to use the kitchen. How often do you think you will use it? Will more than one person be cooking at the same time? Keep in mind, as well, that you don't have to do everything all at once. You can always continue to add on to your outdoor kitchen over time.