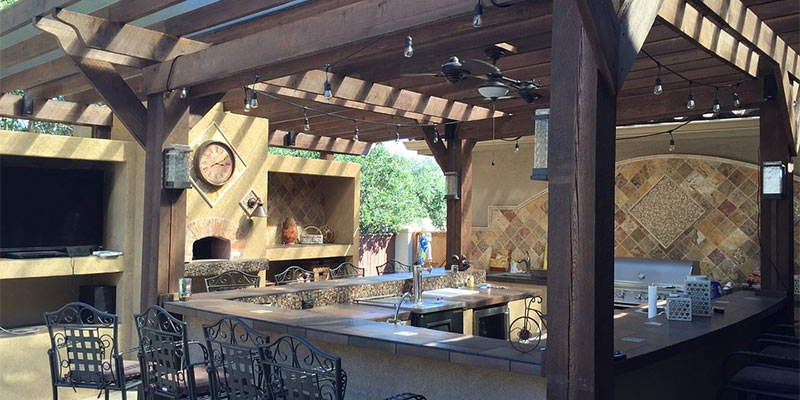 Holding parties at home has become more of a norm in recent times as it is quite pricey to have it in restaurants. There are a lot of factors to consider:  going over the menu, the people capacity, the time limit, the availability of the venue, the noise, fun, cries, and laughter that goes along with it.  It can be a nuisance, especially for the busybodies.  Homeowners are now opting to have their open spaces converted to outdoor kitchens not only for the sole purpose of entertaining but also to save money, and add value to their homes as well.
Now that you have decided to do something great with that extra space in your backyard, here's a list of must-haves for that quintessential outdoor kitchen:
1. Grill
Depending on the available space you have, you can either go for the large ones or the portable ones that you can easily store inside the house when not in use.
Typically, you design your outdoor kitchen around the grill. Whether you choose a big or a small one, the layout will have to adjust to compensate for the rest of the necessities.
Pick a grill that would also suit your preferences best: how much and how often will you be cooking, how many people do you plan on inviting, will it be electric, gas, charcoal, or wood-fuelled?
2. Countertops and Sinks
These prep area necessities will save you the hassle of running back and forth to the interior kitchen. Choose durable, weather-resilient, and easy-to-clean ones like stainless steel sinks and either granite, concrete, tile, or flagstone countertops.  Remember that the layout of the countertops and sinks would need to complement that of the grill.
3. Refrigerator and Storage
Your outdoor kitchen fridge does not have to be massive to store days of supply of food. You can opt for one that will be good enough for a meal.
Choose also cabinetry that made of weather-resilient materials and not wood due to prolonged exposure to outdoor elements. Stainless steel or stone are good choices.
4. Electric outlets, lighting, and water
Depending on the kitchen equipment that you will use and the outdoor lighting, it is best to consult a professional landscape designer and a licensed electrician for proper design and installation.
Installing outdoor lighting can be very tricky without the benefit of ceilings or walls. In this instance, use enough task lighting to illuminate work areas for dinners and evening parties.
You can opt to have your water supply tapped to a hose bib or have a new one installed.
5. Serving area necessities
Whether you have incorporated those countertops into your serving area, plainly add bar stools designed for outdoor use and comfortable for your guests to sit on. You can also opt to have a complete dining set if your space permits and if your outdoor kitchen has an overhead cover or a ceiling.
Before having that open area converted, consult with a designer who will be more than happy to work with your ideas without pushing your budget over the edge. With the above necessities in mind, take into consideration the landscape as well. Everything has to be designed logically by putting functionality in addition to aesthetics in mind. Adding a roof will provide comfort and shelter as well as enhance the architecture of the home as surely, you would also want a place that would invite calm and relaxation.