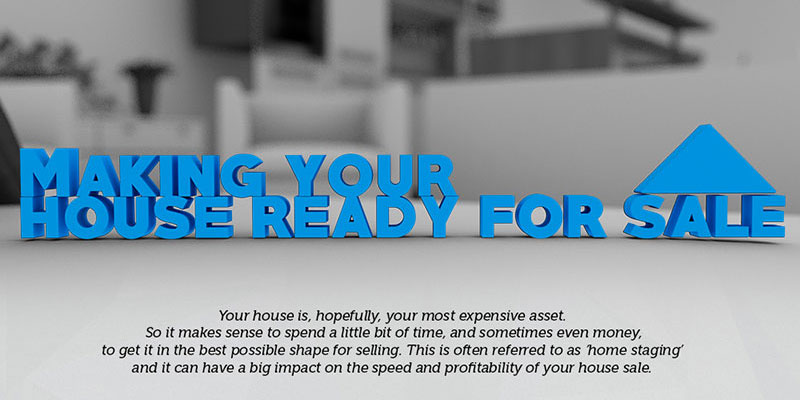 This week's infographic comes from our friends at The Rug Seller. Learn how to prepare your home and garden for selling by following their simple tips & tricks.
'Homestaging' is the art of carefully preparing and presenting your home for potential buyers. It involves looking at your home from the buyer's point of view and understanding their needs, desires and priorities. Just simple things like taking down your family photos and replacing them with more generic pictures will help a buyer imagine the house as 'theirs'. Take a look a the infographic below to see more homestaging techniques.
Click the image to view the fill-size version.

Infographic by therugseller.co.uk.
Getting your house ready to sell
Help the potential buyer visualise what it would be like to live in your home. Make the house look 'ready to move in' by cleaning up, decluttering and removing personalised objects. You may want to consider buying some new furniture, curtains or decorative items to really paint a picture for those who come to view your home — it's an investment that will pay off if it helps you secure a sale. You don't want anything to look cheap, so consider paying a little extra for things like solid oak furniture or real leather dining chairs.
When it comes to selling a house, two of the most important rooms are the kitchen and the bathroom, so make sure they are both spotless. Ensure everything that is on display matches and looks 'high end' — from your kitchen utensils to your bathroom towels.
Finally, use lamps and mirrors to fill your home with light and add a few potted plants to add some warmth and colour.
Preparing your garden for a sale
When it comes to viewing a house, the front garden is the first thing a potential buyer is going to see. We recommend painting/cleaning your doors & windows (if necessary), cleaning up rubbish, mowing your lawn, pulling up any weeds and trimming your hedges. We also suggest you keep it simple — you may be proud of your ornate garden with multiple flower beds, but a potential buyer might see a lot of maintenance work and commitment.
When it comes to your back garden, some simple patio furniture can really help buyers visualise what it would be like to relax and live in the garden. If your back garden is looking a little drab, some low-maintenance potted plants can really add some colour. Outdoor lighting, a clean patio/deck, painted fences and a well-maintained lawn will also help.