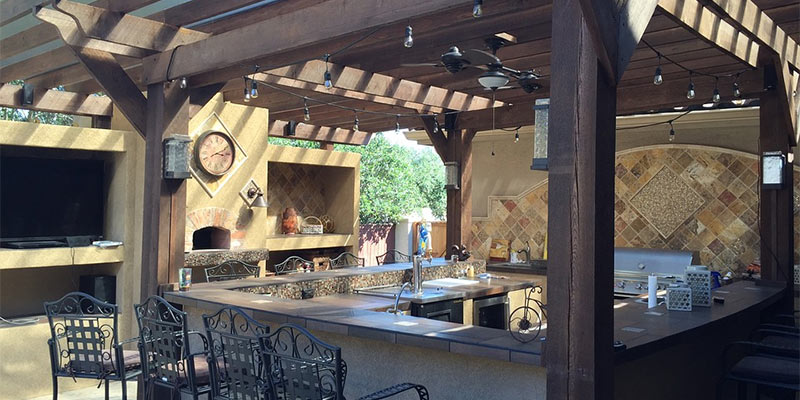 Outdoor parties are fun but can be a ton of work. But entertaining is something we all want to do, so setting up your outdoor BBQ the right way is the key to success. There are a ton of great options when throwing a BBQ party. Below are useful tips to make your backyard space the talk of the neighborhood.
1. Get a grill
First and foremost you need a grill. Whether you opt for a built in grill or a portable BBQ be sure to get something that can handle enough food. You don't want to keep your guests waiting. If you haven't used your grill since last summer, be sure to give your grill a solid cleaning before cooking any food on it. For more help check out these tips for cleaning your BBQ grill from Grill Tanks Plus.
2. Choose a theme
Make the event stand out by going with a theme. Each time you host a gathering, theming it creates an extra special experience for your guests. There are many themes to choose from, even if it is just a simple color scheme. You should base your menu around your theme but remember that your guests are there to have grilled food, so don't let your theme steal away from that expectation.
3. Send out invites early
Depending on the kind of the event, you have many options when sending the invites. They can be E-vites, Facebook invites, or any other way you can let your guests know about the party itinerary. However, it is better to stick with the formal hardcopy invitations if the social media invites might bring confusion. The most important thing to remember is to send them on time and include all the relevant details.
4. Have enough seating
Typically the amount of seating you have in your backyard is enough for you and your family. But when you invite others over the last thing you want to do is make everyone stand around waiting for the food to be done. Give them enough chairs that everyone can sit comfortably. If you don't have access to enough seating then be sure to provide other activities to keep them occupied.
5. Let your guests help
If some guests volunteer to bring in some items, you should not decline to appear modest. Truth be told, planning a party is not the easiest thing, and you need all the help you can get. However, it is annoying for guests to be asked to bring food. You can ask for other kinds of help like games or chairs, but not food.
6. Seating arrangement
A BBQ party is not like indoor parties where people need to be seated at designated places. Therefore, get creative and informal with the seating arrangement. You can place tables and chairs at different points and allow your guests to roam around and decide where to sit. Nonetheless, there should be a focal point at which you build the seating around. Also, outdoor ceiling fans are essential with the crazy summer temperatures.
7. The menu
It is not just meat the people will be eating. If you have a smaller group, you can add fine details to your menu. However, this will be tricky with a large group. Just make sure the basics are available. The most important aspect of the party is going to be the food. Therefore, take care not to mess up. The guests should help you with the grilling work though. Nonetheless, choose only the masters at grilling.
8. Choose a simple drink menu
Cocktails are good, but your backyard BBQ is not a place you should be showcasing your mixology expertise. The measuring and stirring that goes into making cocktails is going to sap the energy out of you, especially if you have to it up the entire night. Just get simple drinks, but ensure there is a variety.
Everybody likes wine with food, and they only come in two types. Just get red and white wine, and have your guests serve whatever they like. However, do not limit the choices. You can include beer and other kinds of alcoholic drinks which go well with grilled meals.
9. Label the glasses
There is a lot of walking around at parties, and people leave drinks all over. Everyone who has been at parties can understand the "whose drink is this?" look. This is one of the reasons why hosts are left with a lot of half-empty wine glasses and beer bottles.
A simple trick to avoid the confusion is to label the glasses. No matter where a certain guest leaves the drink, it can always find its way back. That way, everybody will be happy, and the wastage will be kept to a minimum.
10. Side-dishes
The best part about having a barbeque party is the meat. Nonetheless, not everybody eats meat, and you should find out beforehand if any of your guests are vegetarians and then do your best to accommodate them. A vegetable kabob and hearty side dishes are important to keep the vegetarians full. If you know the number of them that will be present, get their opinions on the kind of foods they like. If not, get something that will be neutral.
11. Prep the night before
To ease anxiety, prepare everything the night before. Marinate the meat overnight, chop vegetables and fruits, and assemble the dishes. Also, ensure you have enough tables and chairs, and the decoration items are available. Go through your preparation list to confirm everything needed for the party is available.
You can prepare the food as well, as long as it will not go bad before the guests arrive. Also, do not postpone anything you can do overnight. Even the tiny details can get you running all over at the last minute if not taken care of on time.
12. Pick the entertainment options
Music is the life if a party, and you should make sure your guests have options. Consider the age and the interests of your guests in choosing a playlist. It should have varied music genres to avoid boring everyone. It is not difficult to create a playlist at this technology era.
If you don't know much about good music, you can have DJ present. Another option is to invite a band. Do not feel pressure to do this though, especially if the party is not too formal. There are classic backyard games you can include to keep everyone entertained. Just make sure everyone will be having a good time, which will not be possible if you choose too competitive games. Check out these great options at https://www.pinterest.com/pin/348184614931988048/
13. Consider entertainment for kids
If there will be children at your party, plan fun activities for them. If they are bored, they will get into all kinds of mischiefs, which can steer the party in the wrong direction. Water balloons, slip and slide, and water guns are inexpensive choices. However, it is better to ask the parents to get a sitter for them.
You should not get uptight about the party to the point of panicking. The essence of a party to get everyone to have a good time, and that includes you as the host. With enough time and these tips, you can bring forth the barbeque party of the year!