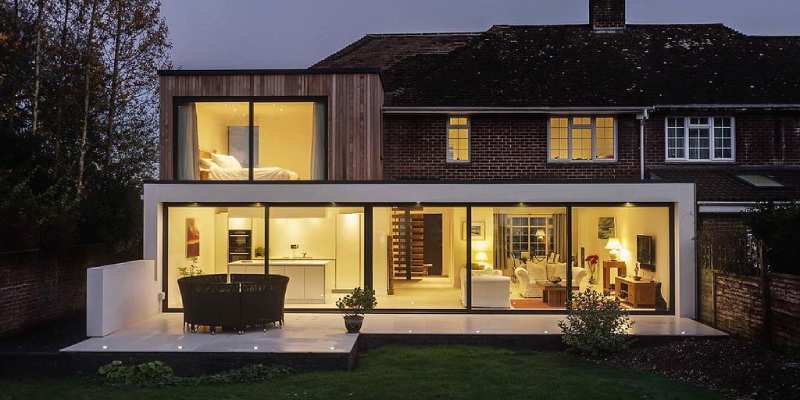 Knowing when to move or extend your house is a big challenge for many Britons. Moving is expensive, but it allows you to get a house which you can live in comfortably with your family. House alterations can be great, but that would on depend on your location as well as your insurance premiums. Some extensions would add value to your house while others would not. Read on to learn about some important factors to consider before deciding to move or extend your house.
What Improvements Add Value to a Property?
Improve the kitchen
If you plan on selling your house, you should know that most buyers check whether the kitchen is up to standard before closing the deal. You don't have to break your bank trying to renovate your kitchen. A simple act of coating the walls with fresh paint would go a long way towards making the house look attractive. You can also change the door knobs and repaint the cabinets. Bright colours often work well with the kitchen. They can make it look more spacious and pristine.
Ensure that your garden remains weeded out so that it seems big enough. Clear out any bushes or overgrown grass and plant some attractive flowers. A well-maintained garden adds value to a property because most buyers would appreciate a space to relax. It would also provide a nice playground for their children.
Have patios and decks
Patios and decks serve as extra living space. The materials to construct them are readily available as well. If you extend your main house by building a patio or a deck, you can expect that the resale value of your property would be very high. Besides, a buyer whose intention is to buy a house with a bigger living area would be attracted by your property.
Alter your attic
Attic conversions are the easiest house alterations that can give you the much-needed space within your home. It is worth noting that an attic with an extra bedroom and a bathroom would increase the resale value of your home by up to 20 per cent. However, before embarking on a loft conversion, you have to consider the building codes within your area to avoid getting into trouble with the local authorities.
How Much Does it Cost to Make an Extension?
You should have an idea of the average cost of a house extension in the UK as this will help you make an informed decision on whether to carry on or sell and move to another location.
The first part that involves a fee is obtaining the planning permission. This should be obtained before you start work on the project. The only scenario where you would not require planning permission is if your house is a single storey and the extension won't go more than three meters from the original structure. The cost of the planning permission is about £190 to £206 depending on your location and size of the extension.
The cost of extending a single storey building ranges between £1500 to £1900, exclusive of value added tax. You can expect the architect's fees to be about 3-10 per cent of the total cost of construction.
Approval of the extension permits may take time. During construction, you can expect disruptions due to noise and dust. This may be a nuisance, especially if you have pets and young children who aren't used to seeing many builders moving around the house. You should also brace yourself to sharing your toilet with the constructors until the project is complete. If you decide to move houses as the extension is taking place temporarily, you should factor in the rent money for your temporary home.
Cost of Moving Houses
Just like a house extension, moving houses can be expensive. Relocating can disrupt your routine and that of your children, especially if they have friends and good schools where you currently live. Also, it can take time before your moving permission is approved.
How to Value Your Property
You may be wondering how to value your property even after carrying out extensions. At Property Price Advice, we have an online tool that gives users a lower and an upper value of the price estimates. The tool also allows you to compare trends of property prices all over UK. Click here to use our free valuation tool which is fast and easy to use.
Final Thoughts
At Property Price Advice we recommend moving only if you cannot extend your property. We advise homeowners to consider alterations that would improve their homes and increase the resale value. Such improvements include renovating the kitchen, gardening, adding patios and decks, and even converting the attic.