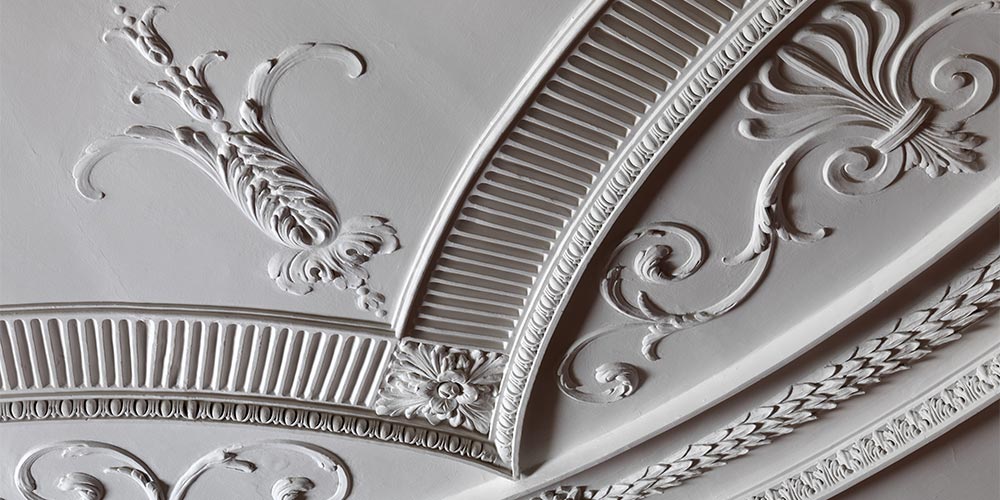 Ornate ceilings bring character and style to both commercial and residential spaces in Perth.   They don't have to be reserved for heritage buildings, though.
In fact, Heron ceilings are contracted to do the ceilings for the popular Perth born coffee house, Dome, making them experts at delivering detailed ceilings.
If you have been into any Dome cafe in Perth, you will notice that their ceilings are part of their brand, with ornate details such as a recessed "Dome" featuring global artwork, ornate cornices signalling a brand that is about quality, heritage, connection and character, which is what an ornate ceiling is about.
The character ceiling of choice
Whether you are looking to renovate an older Perth cottage, or have a character home, ornate ceilings and cornices are a must have to preserve the style.
Made from plasterboard, pressed metals or carved woods, moulds can be used to deliver on your ornate ceilings.
They first became popular in Victorian times with elaborate ceiling roses and chandeliers to signal both formality and luxury, and stayed present through the Art Deco period.
Styles transitioned toward simplicity with less detail in ceiling roses, and the ornate style focused more on geometric shapes – be it circular or rectangular as ceilings and architraves started to be recessed.  This helped give height to smaller rooms, and still create a fun and luxurious feel.
Ornate ceilings are not just for period homes being renovated.
The introduction of carved wood panels or the use of pressed metals can give rooms a wow factor, and thanks to modern day technology and processes, you can really raise the roof when it comes to achieving a personal and unique style.
An Ornate ceiling by Heron turns a space into a statement
The choice of floor coverings, furniture and paint can do so much for a room, yet the ceiling is where it's at when it comes to really giving a room a voice.
The professional team at Heron have experience in turning up the luxury and glam statement of a room with the right ceiling recommendations.
If it is a restoration project, they work to recommend whether the ceiling is preserved or replaced, taking moulds of originals, or suggesting replicas to replace the existing ceiling.
Their expertise also means that ornate ceilings are not just reserved for renovating heritage homes and buildings.
An ornate ceiling can be used within newer builds, also to bring personality and vibrancy to a room, it all depends on the choice.
Types of of Ornate Ceilings
Carved Wood Panelling
If you are wanting to convey a rich and luxurious yet masculine feel, dark timbers and carved wood panels may be the right choice.
Think how this might be used in an office or library space to highlight who "owns the room" so to speak.
Painting carved wood panels can transform the same ceiling into a more feminine room, or even bring about a sense of play and whimsy it if is being used in space for children.
Plaster usage-  ceiling roses and cornices
The choice here is about turning up the intricate detail, and creating a sense of luxury.   Think velvet finishes on furniture, antique chairs, chandeliers, and a ceiling rose and cornice work that makes a statement.
Whether the ceiling is recessed, or using a tray style that graduates down, this is all about enhancing the room, and either creating volume or taking advantage of existing high ceilings featured in older buildings.
Pressed Metals
Whether taking advantage of a traditional style, or creating something individual and contemporary, ornate ceilings using pressed metals can be a great option to explore.
Finishing with enable paint, a pressend metal ceiling can be installed in a tile style, as a singular panel with a plaster border, or take up the whole space.
Whether it is using a combination of geometric shapes, or using a floral pattern, pressed metals can be a great option for any room.
Choice of material is one component- there is also the design side, which may include some of the following:
Tray Ceiling
A tray ceiling is usually present in either the kitchen or dining room of older homes, and usually is rectangular in shape, cut upwards (recessed) into the room.   Think about if you flip a breakfast tray upside down, and you get the idea.
They can be single or multi layer, depending on the level of intricacy and can range in depth from 6 to 12 inches, giving rooms a little more height and drama.
Coffered Ceiling
Suiting larger spaces, ornate ceilings that are coffered look like waffles with extra detail.   Forming a grid pattern, they work best with  chandeliers or recessed lighting.
Coved Ceiling
Like the Dome coffee shops, these take the form of  a recessed dome in the center of a room, and are a great conversational point.
Speaking of conversations, if you would like to explore the restoration or creation of an ornate ceiling, why not speak to the team at Heron who can advise you on options, timeframes and budgets.
Image Source:https://commons.wikimedia.org/wiki/File:Woodwork_and_ceiling_from_the_Tapestry_Room_from_Croome_Court_MET_DP341272.jpg