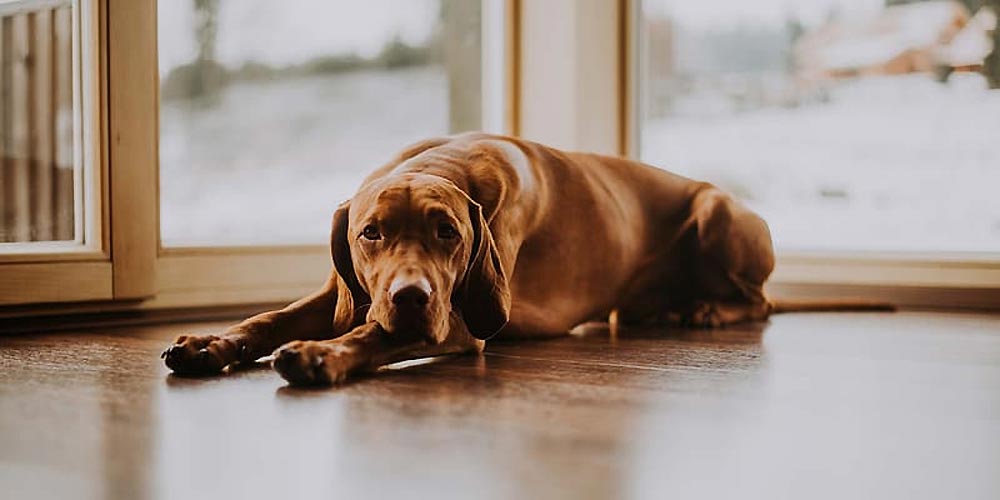 Dogs and floors… a match made in heaven… not, whilst children will grow out of the stage that they want to try and ruin your lovely flooring dogs won't. Lots of people have more than likely come home to a chewed-up piece of carpet that may cause damage to your pets teeth, make sure you have pet insurance. Below we have compiled a list of the best flooring to have a dog as part of your family and to make sure the environment is as safe as possible for your furry friend.
What's the best flooring to have if I own a dog?
Tile Flooring
Tile flooring is a conventional choice for every homeowner. It adds elegance and sophistication in every corner of your house. Tiles are versatile. They can replicate and be transformed into any look such as wood and stone. Plus, it is favourable for any kind of pet regardless of their size and age.
Pros:
Extremely durable
Scratch resistant
Stain and water-resistant
Moisture resistant
Cons:
It is hard and cold for your pets. You will need to have a floor heating element, or you may add some extra rugs especially in the Winter season.
It is slippery. You might need to wear non-slip slippers inside your home.
Laminate Flooring
Laminate flooring is one of the best and most popular options for most pet lovers. It can duplicate traditional wood or natural stone appearance flawlessly. It is very easy to install, and it offers a wide variety of benefits for you and your pets.
Pros:
Scratch resistant
Water-resistant
It has protective layers for stain resistance.
It doesn't fade when exposed to sunlight.
Cons:
It can't be refinished.
It's not natural
It can be slippery.
It can only withstand a moderate level of moisture.
Vinyl Flooring
This type of floor is considered as the best flooring for dogs. It has an appealing look that can complement your home's decor. It can replicate wooden and stone flooring. It is advisable not only for dogs but also for other kinds of pets. It is a combination of efficiency, looks, and quality.
Pros:
Highly durable and can handle heavy objects like furniture and home equipment.
Very low maintenance
Easy to replace/refurnish
Water-resistant
Softer than wood/tiles
It is warm in your feet.
Cons:
Colour fades when exposed to direct sunlight.
You want flooring that is both friendly to you and your dog. The flooring options above can really complement décor and furniture you already have in your home and can look very elegant and stylish.
We hope that our blog has been informative. If you have any questions please don't hesitate to give us a call on 01789 299 455 or head over to our contact page to fill in the online enquiry form.