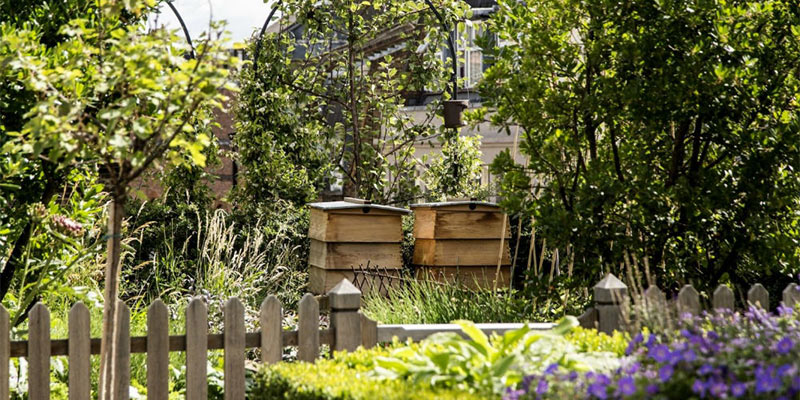 A rooftop garden could be the perfect solution if you're living in the city and are longing for outdoor space. Whether there's a modest patio or an expansive roof terrace at the top of your building, now is the chance to transform a barren concrete area into a lush oasis high above the hustle and bustle of the urban jungle below.
Privacy and planting are at the heart of any urban roof garden design, so let's take a look at some garden design tips and ideas to help you create your green dream rooftop garden.
Main Image: Gardenista
Tall plants and trees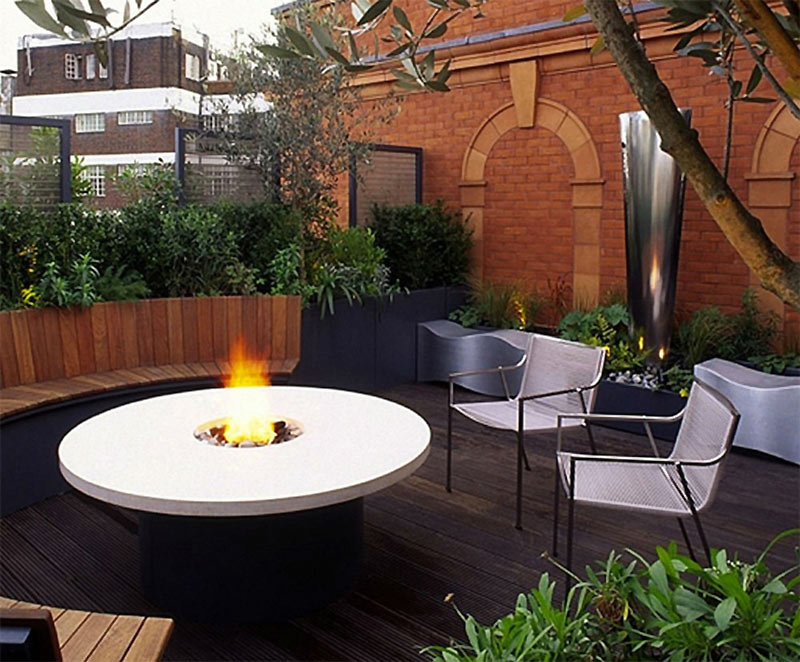 Source: Andy Sturgeon
If your urban roof terrace or balcony is surrounded by high rise buildings, privacy may be hard to achieve. This is where clever planting can make all the difference between feeling exposed, and being able to enjoy your garden in comfort. Trees, shrubs, hedges and grasses can all be used to great effect.
Bamboo grows fast and tall. The lush grass provides just enough cover to screen you from prying eyes but it's not a solid green wall, so you'll still feel connected to the outside. Bamboo plants are fairly thin and they constantly move with the wind. In fact, many people find that the rustle of leaves and stems is an attractive and relaxing soundtrack to their urban oasis.
Hedges are another way to gain some privacy, while also giving your outdoor area some definition. Consider growing a formal hedge around the edge of the terrace, planting in containers so that everything looks neat and can be easily maintained. With regular pruning, you can control both the height and the shape of the hedge as it grows.
To add height and structure to your rooftop area quickly, install arbours or climbing walls and stock with a variety of climbing plants that thrive in direct sun exposure. Boston Ivy, Star Glory, Firecracker and Golden Hop Vines are all excellent choices that will add interest with different colours and textures through the year.
Whether you choose one or several, trees can be a great focal point for an urban rooftop garden. Crabapples, field maples, acers and birches can all look fabulous. Choose a Cornus kousa with its beautiful white/pink flowers in spring and red/purple leaves in autumn, or a showy Japanese Wisteria 'Blue Moon' with fragrant blooms that hang like bunches of grapes.
Don't forget the view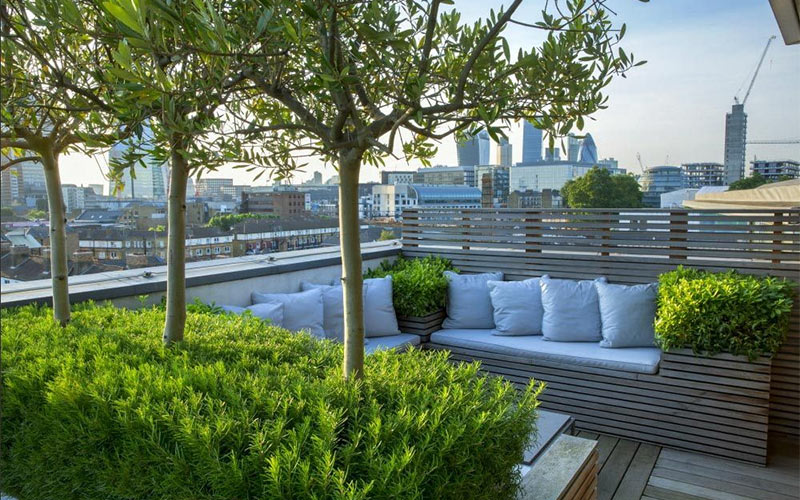 Source: Pinterest
Unless you're very unlucky with the visual appeal of the surrounding area, the view from your roof garden should be one of its most valuable amenities. While creating some private green space for you to enjoy, don't forget to make the most of that fantastic view across the city.
Partitioning may be necessary to create a private space for relaxation, and it can also help to screen off an unsightly view. You can use a combination of planting and hard landscaping to give you the desired result.
Solid partitions, such as walls made from concrete, brick, metal or glass, provide a strong visual block that may be exactly what's required but they will also influence air movement. This may be desirable if you're trying to create shelter from the wind, but it can also produce pockets of stagnant air in summer.
Screens and partitions made from open material – lattice or metal grids, natural fibres, woven material – can look very attractive, especially when covered with climbers. Crucially, they will let both light and air through and provide a backdrop and context.
Easy maintenance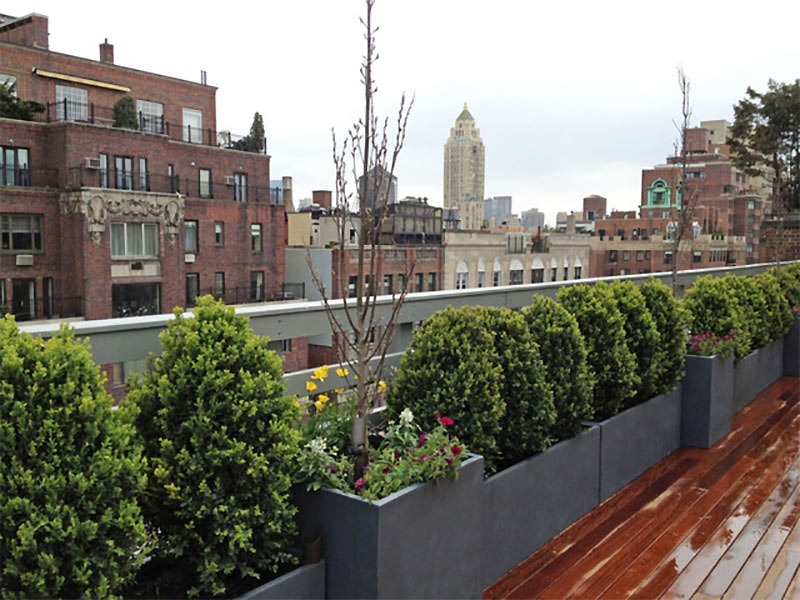 Source: Houzz
Clearly, rooftops are not natural or obvious surfaces for landscape gardening. Of course, with the necessary technical skill, ground preparation and continuous attention you can achieve pretty much anything you set your heart to, but unless you are an ardent gardener (or employ someone who is), why make life difficult? It is perfectly possible to create a lush but low-maintenance rooftop garden.
Container gardening may be one answer. Save space and maintenance by planting direct into attractive tubs, pots and containers and fit a drip irrigation system to ensure all your potted plants get watered. This is important since plants on a rooftop are more exposed to wind and sun than those planted at ground level and will need watering on a daily basis to keep healthy. Make sure that your planted containers are well draining – you don't want standing water than can ruin both your soil and your plants.
Large containers with wide bases are best for roof gardens as they are more stable and less prone to toppling over in strong winds – particularly important for tall trees and other top heavy plants. Mix it up with low growing shrubs in large pots, planters or troughs, and intersperse with smaller containers in different styles (and colours, textures and materials) for added interest.
When it comes to rooftop garden design, diversity and interest is key to produce a space you will love to spend time in. Consult a knowledgeable garden designer to help you create a mixed scheme of large plants, shrubs, small trees and more, cleverly placed into a stylishly designed space to make the best of roof space.