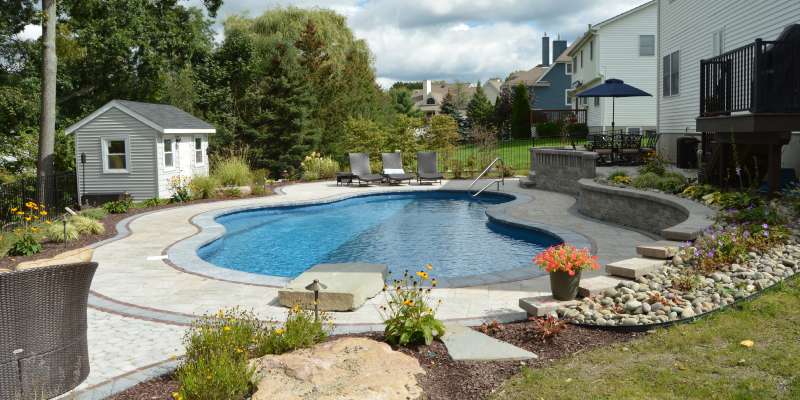 The swimming pool is often the focal feature of outdoor living in the summer. Whether your friends seek to cool down, you'd like to get some cardio in, or your kids want to have fun splashing about, a swimming pool can meet everyone's needs all at once. Here is how you can spruce up the look and function of your swimming pool.
Showcase Your View
An infinity pool nestled on the edge of a slope can maximize your use of a hillside property. Install the pool on the side of the landscape that overlooks the best view and arrange your outdoor furniture so that you have a good vantage point when you're reclining at the poolside. Placing your outdoor furniture on raised platforms can improve your view when seated and add dimension to the overall hardscape design.
Experiment With Shapes
Instead of forcing a perfectly rectangular pool into a small space that is not perfectly suited to the shape, consider designing the shape of your pool to fit the contours of your existing landscape. A gunite pool can conform to any shape and can weave between existing structures in order to fit snugly into your landscape. Round pools and freeform pools can also mimic natural bodies of water for naturalistic landscape designs.
Match the Aesthetic of Your Home
Your pool can be customized to match the aesthetic of your home so that the entire experience of your property, from the front door to the backyard, is cohesive and well put-together. Opt for light sandstone slabs and gray gravel to match your serene beach house. Terra cotta tiles, orange umbrellas, and cool white-painted coping can stretch a Tuscan-themed aesthetic from within the home out into the hardscape.
Go Green
Lush greenery can enhance the beauty of a poolscape, regardless of its shape and material selection. Whether you're seeking a tropical vibe or modern look, the types of plants you use to surround your pool can enhance your desired aesthetic and complement the soft texture and movement of the nearby water.
Invest in an Island
An island is not only a pleasant variation from the norm, but it is also incredibly versatile. A tiki bar can be perched upon it, or it can be left bare as a tanning spot. It can even be filled with lush greenery to enliven the poolscape and give it a sense of mystery. A simple stone slab situated slightly off-center in a sleek, rectangular pool can break up the simple shape and serve as the perfect spot to enjoy a drink and bask in the sun.
Add Pops of Color
If your poolscape seems slightly boring or lifeless, a few pops of color can work wonders to improve it. Consider colorful upholstery or accent cushions for the recliners flanking your pool or vibrant umbrellas for a fun addition of color to your poolscape. Colorful planters and plenty of plants can also be used to add color and texture to your poolscape.