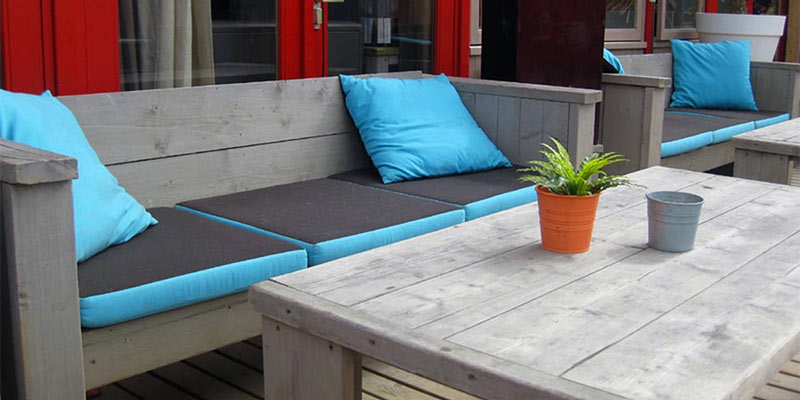 Having a lovely backyard allows you to fully enjoy your property. It also increases the property's value and sets it apart from the competition should you choose to sell it in the future.
Ideally, your home's surrounding areas must have attractive, functional and leisurely spaces where you can spend quality time with your family and friends.
Enhancing your outdoor area can be as simple as touching up your patio furniture with new throw pillows, or it can be as complex as installing a fireplace, a built-in barbecue or a swimming pool. Just remember that any backyard improvements you make must be designed with your needs and goals in mind, as well as your budget.
Lawn care and landscaping experts share some of the best ways to spruce up your outdoor entertainment space.
1. Freshen up your existing outdoor space
Cleaning up is the first step in improving your outdoor space. This way, you can better assess the area and become fully aware of the backyard assets you already have. From there, you can determine which backyard improvement projects are necessary.
To clean up and refresh the look of your yard, the following lawn maintenance chores can be done:
Trim bushes and trees.
Identify hardscape features that require repair.
Pull out dead plants and bushes.
Mow the lawn.
Revive green spaces through mulching, fertilization and weed control.
Give your yard an overall tidying up.
2. Build an outdoor living room
One of the easiest backyard improvements to implement is to create an outdoor living room, especially when you already have a covered patio. Create a perfect place to entertain your guests outside by adding some well-appointed furniture pieces such as a table, comfortable seating and an outdoor rug.
3. Create a theme garden
A great addition to any landscape design is a theme garden. This provides you with the opportunity to showcase your creativity and personality in your landscaping.
For instance, you can design a garden inspired by your favorite movie. Add seating in strategic locations to make the space ready for entertaining or for simply hanging out. You can get a landscaping contractor to complete this project so you get a professionally done garden to enjoy for the years to come.
4. Install a built-in barbecue and a fire pit
A full outdoor kitchen sounds dreamy but if you have a limited budget, you may also opt for a simple built-in barbecue to boost your outdoor entertainment space.
Adding a fire pit to your outdoor area is also a great idea as it will only take up a little space. A fire pit is an ideal place for family gatherings, get-togethers with friends, and at-home date nights.
Hiring a pro to handle this backyard improvement project is a good idea. It may seem more expensive initially but getting a professional involved ensures that you will be completely satisfied with the outcome.
5. Add a set of French doors
Opening up your interiors and expanding it to include the outdoor space is as easy as adding a set of French doors between your patio and an interior room.
You can build an outdoor dining room by opening an exterior wall between your indoor dining room or kitchen and patio. These connecting French doors provide an excellent way to transport food, drinks and other supplies between your outdoor and indoor spaces.
6. Add pathways
Adding pathways or walkways leading to the different areas of your yard is a wonderful way to boost visual appeal. Opening up your garden this way will also entice your guests to explore it and the rest of your outdoor space.
Outdoor amenities and landscaping features must have their own walkway leading to it including your vegetable garden, swimming pool or seating areas.
Pathways also help make your yard look organized. They guide your guests where you want them to go as well as keep them from walking on the grass. Moreover, walkways are a great way to create a focal point in your yard or to accentuate certain landscape features.
7. Add lighting
Today, there are plenty of solar landscape lighting options you can take advantage of. These include accent lighting, walkway lighting, and decorative lighting for your plants, trees and patio. The best way to enhance your patio while creating a relaxing ambiance is to use lanterns or string lights.
There are plenty of ways you can boost your curb appeal. There are ways for you to design and install some of these backyard improvements. However, there are also certain enhancements when you should decide that hiring the pros is the best way to go.