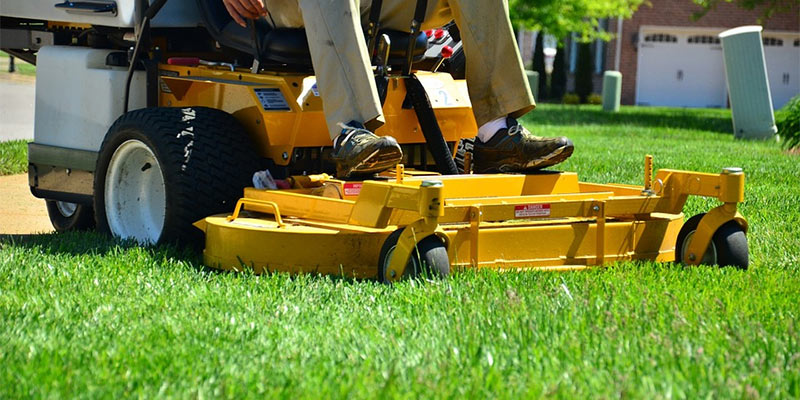 Your lawn is so much more than a simple decoration for the front of your home. Instead, it's a place of refuge for your family from the hustle and bustle of the outside world. When friends and family gather for a BBQ, it's the lawn that hosts them. When you're taking a quiet moment's rest from the busy work week, it's often a lawn chair and a glass of iced tea that host you and taking care of your lawn means you'll have a beautiful and luxurious place to enjoy your repose. This, of course, requires that you have the proper equipment for the job, and we're going to introduce you to a few of the essentials.
Zero-Turn Mower
From push-mowers to riding mowers and even the occasional remote control one, a lawnmower is an essential tool for maintaining your lawn. If you have a yard of any appreciable size, then you're going to want to go the riding route. While you're at it make sure you select a zero-turn mower. These incredible devices allow you to turn on a dime, avoiding leaving unmowed swaths and having to take a second turn around your lawn.
Electric Leaf Shredder
Do you live in a place with beautiful trees that shed their leaves in an Autumnal rainbow of color each year? We know there's nothing that quite makes it fall like those leaves drifting to the ground, but then there's the frustrating process of sweeping up and disposing of those leaves. Instead, why not get an electric leaf shredder and produce nutrient-rich mulch to help feed your lawn and garden throughout the year?
Cultivator
For the serious lawn owner, there's nothing that can replace the cultivator. This tool serves multiple purposes in your landscaping regime, from edging walkways to aerating the soil to make sure that your grass maintains drainage and gets the water and nutrients it needs throughout the year. These tools often come with additional attachments making them an excellent multi-tool for your yard.
Hedge Trimmer
Possibly the most iconic home-care tool we can think of, a hedge trimmer is an essential tool for anyone who maintains a verdant border to their property. The worst part of using a trimmer, however, is the pile of clippings that inevitably result and require another few hours to clean up. Consider getting one that has a built-in collector to help smooth your task and make clean-up a breeze!
Outdoor Sweeper
These tools are one of our favorites for just day to day maintenance of your yard and property. Rather than spending hours cleaning up all the bits and detritus that can gather in your yard, take this handy tool out for a spin. It's perfect for picking up everything from hedge clipping to cigarette butts and doesn't shy away from wet and dry problems either! It's one of our favorite time savers.
These tools are some of what we consider to be must-haves to keep a garden and yard looking incredible. With these, you'll have hedges that are the envy of the community, as well as walk-ways and a beautiful green lawn that lights up your home with its color. Your yard will be ready to host some of your most important events, even if it's just a nap in the sun.