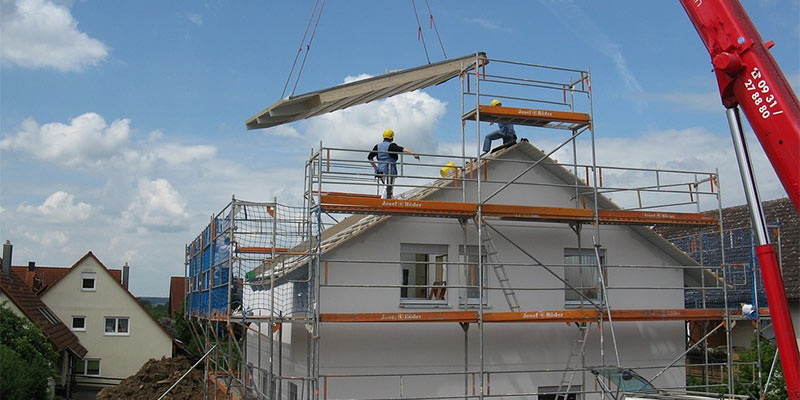 Scaffolding has been around for many years and for good reasons. It has been trusted by builders since ancient times for its strength and durability. It is suitable for big and small jobs and helps workers negotiate the job better. Its main function is of course safety and it has been keeping workers in the UK safe for generations and will continue to do so for generations to come. There are quite a few different kinds of scaffolding available to builders and contractors depending on the type of job they are going to undertake.  It is commonly relied upon in all facets of the building industry for the following reasons.
1. Safety – This is scaffoldings main advantage. Before scaffolding peoples lives were at risk every day as they negotiated extreme heights and angles. It gives you a really stable platform on which your workers can work and guarantees their safety even at great heights. A lot of work takes place on the outside of a building and due to the UK's inclement weather, workers need to be protected from wind and rain on a daily basis. Scaffolding allows multiple workers to move around all at once without the risk of falling or causing an injury. It also keeps the public below safe as well as extra sheeting and netting can be added to it to catch any falling debris or tools that may fall from the scaffolding.
2. Ease Of Access – Accessing certain parts of a building can be tricky, especially if the area you are looking to work on is on the outside and is high up. Trying to use a ladder for the job just won't work because you would have to continually come down the ladder and move it along. Also the rungs on the ladder do not provide sure footing and there is a higher chance of someone falling and hurting themselves. Scaffolding however, provides a continuous safe area to walk on and even put your tools for the job. A scaffold inspection takes place daily to make sure that the area is clear and the scaffolding itself is firmly in place.
3. Additional Tradesmen – If the job requires more workers than initially estimated then this is fine as the scaffolding can accommodate additional workers with relative ease. If necessary, additional scaffolding can be added to the current structure to create more space for people and tools. Many tradesmen can all work together on the same scaffolding and get the job done quicker and better. As the bricklayer lays his last block, the plasterer can come behind him and begin his work. Scaffolding is so easy to set up and current scaffolding can be aluminium frame which is very light but strong. It can be set up quickly and taken down just as quickly.
Scaffolding is great because it is perfect for short and long-term jobs. It is easily set up and provides safety and accessibility to any job. Look into scaffolding today and make your workers lives easier and safer.