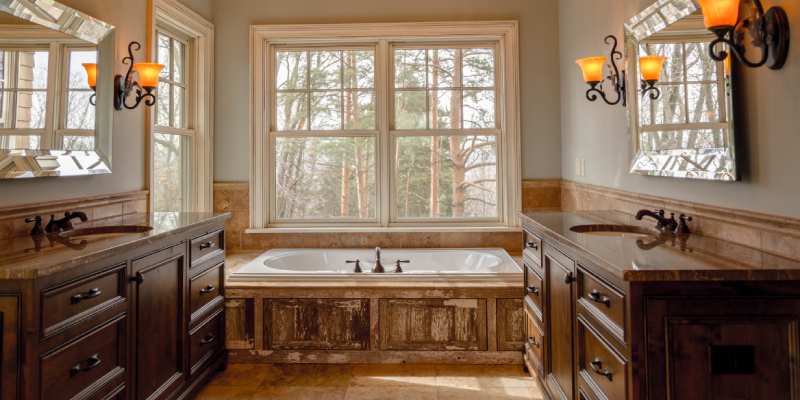 Flooring ideas and trends are the super cool way to get inspiration for your home, which simply transforms the overall shape in an elegant way. Especially when it comes to renovating your bathroom floor, it's important to follow some latest trends that look inviting and useful as well. So, if you are planning to renovate your existing bathroom or want a newly constructed one with a beautiful floor- then it's time to consider some exceptional hard surface flooring choices that are practical and let you add the design pizzazz to your bathroom.
Heated tile floors
Tile floors usually feel hot and cold underfoot according to the weather conditions. But Radiant floor heating usually solves the problems and offer a more comfortable solution. You can install such systems under the tile as well as hardwood or other popular flooring surfaces. It simply creates a warm and cozy surface to step on after a hot shower bath.
Vinyl flooring
Vinyl is a budget-friendly bathroom flooring option that is much durable, need low maintenance and feel soft and warm underfoot. Vinyl tiles simply mimic the shape of hardwood, porcelain, and ceramic tiles. They are much warmer to the addition than traditional tiles.
Linoleum flooring
Linoleum flooring is now making a strong comeback as the new generation has already discovered its different benefits. This is also an all-natural alternative to vinyl, so the surface is highly durable and usually available in wide variety of colors, from vibrant to natural hues. That's the reason, homeowners tend to choose linoleum flooring and approach local flooring contractors so they can manage the mini or major makeovers.
Bright and vibrant color trends
Move away from those neutral color trends and make some room for bold colors, such as bright blue, espresso or red. And if you want to apply something unique than your basic neutral tile, then there is never been a better tile. Tiles of different types are now being manufactured in different colors than before. So, make sure the colors you are choosing are little different and unique than traditional bathroom floors.
Patterned tiles
Bathrooms can simply make use of this trend and enhance the areas beautifully. Homeowners prefer to choose walls backsplash or mosaic accent in flooring as well. You would find two types of floors in the bathroom tile. The first usually comes with how you choose to layout the tile and perhaps in chevron or geometric patterns. And the second ones usually come in an actual patterned style which simply have a design on them and can lend a different and new look to your bathroom walls, border, and floors.
Carpet Tiles
Wall to wall carpeting doesn't look practical in the bathroom and might create a boring look. So as an alternative, you can choose the innovative carpet tiles to add warmth, style, character, and softness to your bathroom flooring. So, if your carpet gets wet, you can easily pull up the squares to dry.
Looking for more flooring design trends? You can visit Renovaten where home renovation contractors can help you provide the floor of your own choice.