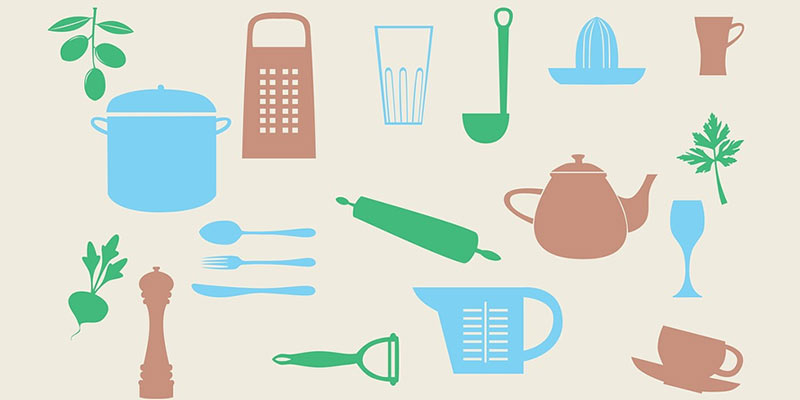 You can have a well-designed and great looking kitchen but it is often the accessories that really give it the wow factor. Not only that but they will make your life so much easier.
Good accessories will save you time and take care of much of the boring repetitive work. You don't want to spend hours chopping, mixing and preparing the food. Good accessories will take care of much of this for you which will give you more time to spend on the fun part of cooking and also give you more time to relax with friends and family.
These days there is a host of attracting and exciting accessories for the modern kitchen. Let' take a look at 8 options available.
1. Blender
A blender or liquidizer as it is sometimes called is extremely handy. It is used to purée, mix or emulsify foods. There are two main types. The most common and generally the most practical is a stand blender that has a large jar, normally, glass with metal blades at the bottom. This spin rapidly and blend the ingredients.
The other type of blender is a handheld immersion blender that you can use to blend food in a pot or other container.
While there are many practical uses for a blender, fruit smoothies are one of the most popular uses for blenders these days. You can make a quick and healthy fruit smoothie in a few seconds.
2. Bread machine
Something else that will fill your home with a wonderful aroma is a bread maker. There is nothing more delicious than warm, fresh home cooked bread. They are very easy to use and a handy accessory in any kitchen.
3. Magnetic Knife Strip
You should definitely invest in quality kitchen knives. While a knife block is also handy, nothing beats a magnetic knife strip. It will keep the knives safe and within easy reach. Never just throw decent knives and the kitchen drawer as this is not good for them.
4. Quality scale
Another must-have kitchen accessory is a quality scale. You can go for the traditional scale but the new electronic scales are more accurate and easier to use. Apart from that, they also look modern and attractive in the kitchen. Take the guesswork out of your cooking and baking and invest in a decent scale.
5. Coffee Machine
Coffee is one of life's simple pleasures and while instant is ok if you are in a hurry, nothing beats fresh peculated coffee. The rich aroma will fill the house. Modern coffee machines can make different styles of coffee and many have a timer so you can set it to start the coffer before you get up or when you get back from a long day at work.
6. Food processor
A food processor is extremely handy and will save you hours of boring preparation time. They have multiple attachments and can be used for a wide range of applications. They will reduce the amount of time spent on tedious preparation and make cooking a pleasure.
7. Quality cookware
Do not skimp on getting quality cookware. It will make a huge difference to your cooking. If looked after correctly, good cookware will last a lifetime. It is also much easier to clean quality cookware than the cheaper brands.
Good cookware will not lose shape or warp and it distributes the heat evenly for better results. It is definably a worthwhile investment. If you cannot afford a full set, you can always build it up over time. It will be an investment you will not regret.
8. Oven gloves
Another essential item for the kitchen is a good pair of kitchen gloves. You can get the traditional material ones but the new silicone ones are excellent. They come in a range of funky colors and give your hands amazing protection. They are also water resistant and much easier to keep clean. They will stand up to even the hottest items and you can even remove eggs from boiling water.
Final thoughts
Invest in quality kitchen accessories to brighten the room up and make your life easier. Remember, spending a bit more on good accessories now will save you money in the long run.