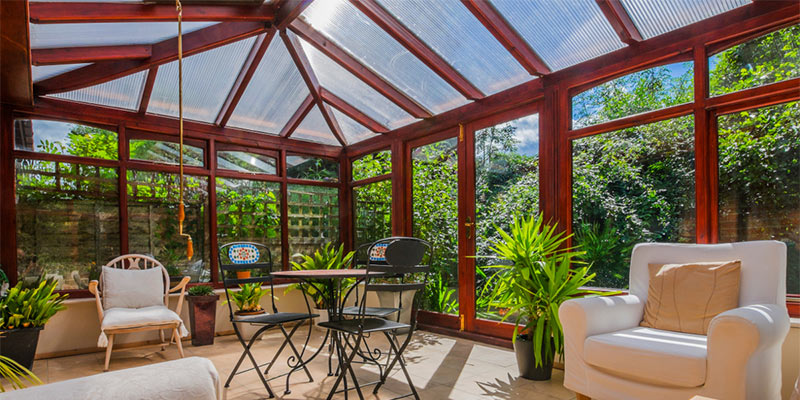 Having a conservatory added to your home is a great way to get some extra living space, but it can also add a lot of extra value to your home. Choosing a good style, fit, and shape of conservatory makes it a valuable asset that will be worth the investment when you decide to sell your property.
How Much Value can a Conservatory Add?
How much value a conservatory can add to your home is hard to predict. Famous property personality Phil Spencer suggests that it could add around 7% to the value of your property. The actual increase in value can depend on several factors though, including how well your conservatory fits in with the house and surroundings.
An ugly conservatory will likely just reduce the value of your property. Make sure that the new space you create blends in well with the current space of your home. It should reflect the current interior style of your property to establish continuity and show that the conservatory was carefully considered and planned.
What About Potential Buyers?
Potential buyers always seem to love the existing conservatories so to make your investment worth while ensure that you choose a design that blends in well with the rest of the house and adds extra value in terms of extra space while not taking away from the garden too much. Much like how much value a conservatory can add though, it can be hard to predict how people will respond to it.
It's all down to their personal tastes. With that said, you can't go wrong by choosing to add some extra space, light, and a touch of style to your property with a conservatory.
The Best Ways to Add Value With a Conservatory
When you've got a south-facing backyard, this can offer you the most amount of sun for your conservatory. East and west facing gardens may also enjoy sun at various times of the day.
The picturesque view your conservatory has will also create a big impact. Being made largely of glass signifies an attractive view will make it an area everybody will like to spend some time in.
Pick the size sensibly. Too little and you might be restricted with everything you can do. Too large and it might dwarf your house and take up precious garden area.
Keep a running theme. This is particularly significant with traditional houses. An ultramodern conservatory added on a heritage property can damage the look.
Talk to your local estate agent to learn how much they think a conservatory could increase your property.
Make sure to use a respectable firm like Complete Glazing Birmingham, this will ensure high quality materials are utilized and construction regulations are followed closely.
Keep in Mind
Keep in mind where your conservatory will sit. This is an important consideration to make as a conservatory that seems to be "stuck" into a home can damage the property value. Buyers could consider it something that they will have to fix, and anything that needs to be fixed is taken out of the value of the home.
Wrapping it up
It's clear to see that there's a wealth of benefits when you decide to invest in a conservatory, the extra living space, additional light and increasing the value of your property are all undeniably a good reason to think about it.