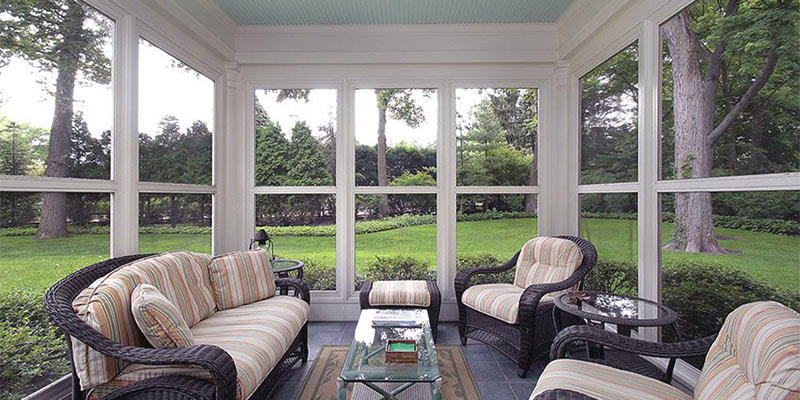 One of the most popular additions to every homeowner's renovation wishlist is a Sunroom or "Florida room". Bringing the light and openness of the outdoors into your home can add an entirely new feel to an otherwise unused area.
A sunroom adds an attractive and comfortable space with luxurious views and pleasing functionality. It will quickly become one of your favorite places in your home to spend your time.
When considering home renovations, you want to not only add space but value. After all, Sunrooms can provide the best return on investment compared to many other home additions. Sunrooms and Florida rooms are highly prized by new buyers and can add value to your home when you're ready to sell.
You can design your space so that you can enjoy it through three or four seasons. In a three-season sunroom, you will be able to enjoy your new space from spring to fall. In areas that have a cold winter, you can even opt for a four season sunroom. The difference is in the double pane windows and level of insulation, but the experience is the same.
Affordability
Depending on the size and design of your desired sunroom, you can spend less than you'd expect. With materials made with the newest in technology, you can add a functional and attractive new room to your home for less than a kitchen remodel.
Energy-efficient materials and windows will allow you to enjoy the feeling of the outdoors right in your own home while keeping your heating and cooling costs to a minimum.
Functionality
Being able to enjoy the views of nature and the natural light of a sunroom will fundamentally change how your home feels for your whole family. By adding livable square footage to your house, you are not only increasing its resale value but adding space that can be used for any number of functions.
Sunrooms are great for use as a garden solarium. With the unlimited light and air of the space you can have a year round garden right in your own home. Expand your dining area, living room or use the space as an office or gym.
Space You Will Use
With unlimited options for how you can use the sunroom space, you can be assured that the added room will be put to good use. Gather your family for a movie night marathon or enjoy a great book by the fireplace. The choices are unlimited.
Think about the spaces in your home that aren't getting a lot of use like your basement or an extra bedroom. There isn't much appeal to these types of rooms, but with a sunroom, the airy light environment will bring your family coming back for more.
Sunrooms that are placed next to the family kitchen are the most popular of many designs. The kitchen is a well known family meeting area that can be expanded to overflow into a beautiful sunroom with a breakfast area or dining area. With a four-season sunroom, you will be able to enjoy the sights of winter while relaxing in comfort.