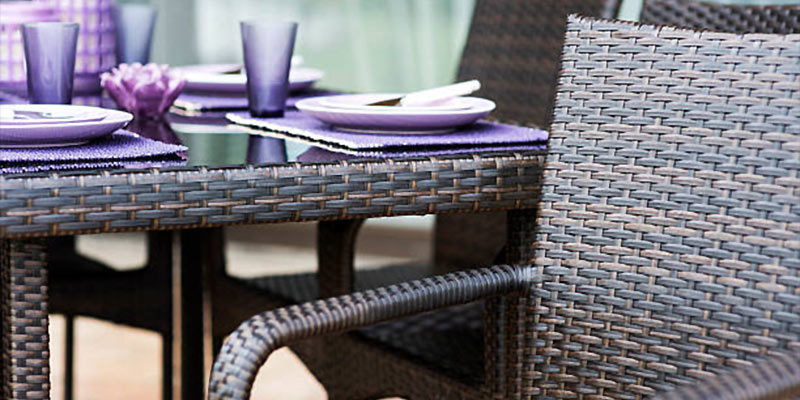 Over recent years, outdoor design has increasingly come to be seen as a continuation of indoor design, with homes and gardens merging seamlessly into each other. As a result, garden furniture, such as outdoor dining sets, is now an expected to be as stylish as your indoor furniture, even though it has to be much more robust so that it can, not only stand up to everyday use, but also cope with the Great British weather. This is why teak and rattan are now far and away the top choices for quality garden furniture for the UK market and rattan is generally the preferred choice for outdoor dining sets as it is lighter and therefore it is easier to move the chairs to and from the table.
The most desirable rattan dining sets are the ones which work best in your situation, so aside from the golden rule of always looking for the best quality, there is no right or wrong, there are however some useful guidelines you can use to create a shortlist of good options from which to pick the perfect one.
Start with your space
Pick your space first and only then start looking at furniture. That way you're less likely to find yourself trying to come up with creative ways to fit in furniture which looks great but just isn't suitable for your garden. Remember you not only have to think about how much space the furniture itself will take up but you'll also have to allow sufficient space for people to move around it, be that within the entertainment area or to gain access to the garden as a whole or indeed the house. Keep safety in mind at all times, for example, make sure there is a reasonable distance between your dining set and features such as outdoor cooking areas or garden ponds.
Pro tip
Measure your garden gate and any other barriers or entrances your garden furniture will have to pass on the way to where you want it. This can save a whole lot of frustration later.
Find a reputable vendor
It may seem very strange to offer this as our next, most important tip for picking a desirable rattan dining set, you may well be thinking that the more choice you have the better a chance you have of finding the perfect rattan dining set for your particular needs and wants. In theory this is true, in practice, however, you're probably better to choose a reputable vendor first and pick a rattan dining set from their range.
Let's explain. Rattan garden furniture has been very popular for a very long time, which means that retailers know there is always a ready market for it. As a result, there is a lot of low-grade rattan garden furniture out there. Some of this is for sale very cheaply (which is generally a reliable indicator of low quality), but some of it is priced at a similar level of high-quality pieces, presumably on the assumption that people are more likely to be able to tell whether or not they like the look of a particular rattan dining set than they are to understand how to identify a quality piece of rattan garden furniture. The most convenient way to ensure you avoid buying poor-quality furniture is to stick with reliable vendors.
For the sake of completeness, however, here are four key points to help you identify quality rattan furniture.
A tight, smooth weave
Rattan is woven, like baskets, and the tighter the weave, the more strength and rigidity it will provide. A smooth weave is not only more attractive to the eye, it also feels better to the touch.
UV protection
It's not just for humans and animals. The sun can damage furniture too and unprotected rattan will soon become brittle, at which point you can expect splits and cracks.
A natural look
These days, in the context of garden furniture at least, the word rattan is typically taken to mean a blend of natural rattan canes and a synthetic coating. Untreated rattan is rarely used outdoors. High-quality rattan garden furniture does, however, still look like natural rattan unless you look really closely. Lower-grade rattan garden furniture, by contrast, often has an obvious plastic sheen to it.
Aluminium frames
At current time, aluminium is generally the preferred choice for the frames of high-quality garden furniture since it is light, robust and water resistant, meaning it won't rust.
Choosing the right rattan dining set for you
So now you know what you can fit into your space and where you can go to buy it, it's finally time to choose the perfect rattan dining set for you. This is purely a matter of personal taste, however, the one big tip we would like to give is to think long term. High-quality rattan garden furniture will last for years, so it's generally recommended to buy pieces in simple, classic shapes and to update their look as appropriate with accessories such as throws and pillows. Because rattan is now used globally, it suits just about any decor scheme so if you want you can transition the theme of your entertainment area from Asian exoticism to New York glam to Old English romance all with the same basic pieces and different accessories.